The Kuraoka Family Weekly Journal
www.kuraoka.org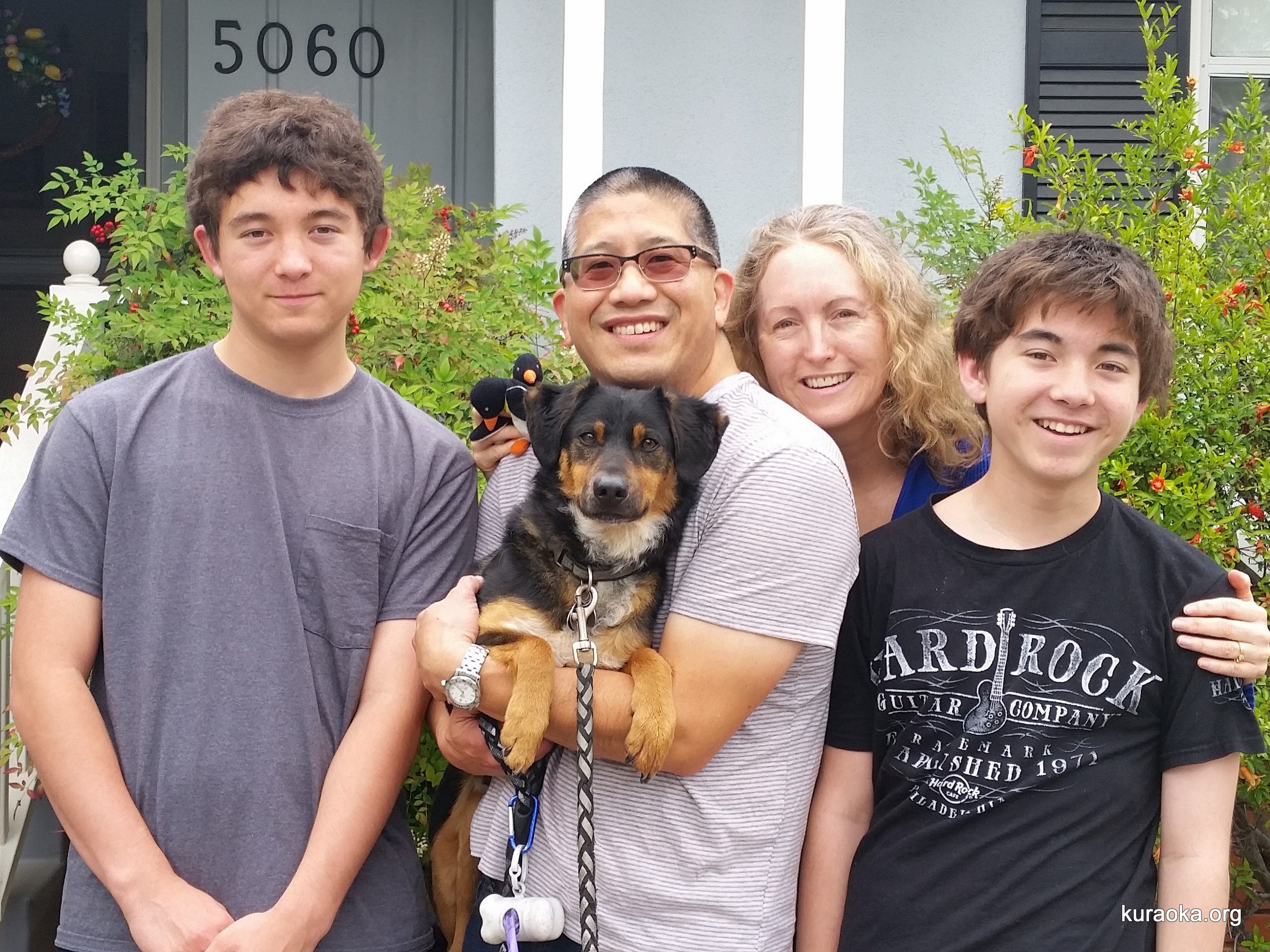 Us, May 8, 2016: Roy, Shadow, John, Ondine, Leo
UPDATED Tuesday, July 25, 2017
Roy has returned from his week in Japan and Leo has left for a week of summer camp! And, we now have photos from Roy!
Here's what we've gathered from Roy's trip to Japan. This is all based on what John could recall from a couple conversations with Roy. And, yeah, there have been a few corrections since yesterday's journal, plus a slew of Roy's photos added.
Despite a very rough time getting there and back (Roy said all his bad luck happened on the flights: delays, missed connections, canceled flights, unplayable movies, unexpected security checks, and being seated near squalling babies), Roy had an absolutely fabulous time in Japan! His host family, the Iuchis, was wonderful, and his student host, Naoya, was great too. The Iuchis had a small, fluffy dog named Kotoro or Kotaro, that thought it was a person. They lived in a spotless, efficiently compact flat on the 12th floor of a residential building with lots of open green space around it in which they set off fireworks! From their balcony, they could see Tokyo way off in the distance.
Most weekdays Roy shadowed Naoya through classes, hanging out with Naoya's friends and also the four students from Patrick Henry High School and one student from another high school, four boys and two girls in total. Roy said the high school, Yokohama International School, is all in one multi-floor building and the class periods are 40 minutes long, so a different experience compared to San Diego schools. Also, the school is cleaned by the students, so it's generally very clean. There was no cafeteria, so students brought lunches from home or bought them at the train station on their way in.
He said high school felt more like he imagined college would be like, because classes varied day to day (Roy thinks the students take 12-14 classes each year, instead of six) and it seemed attendance wasn't a high priority as long as the work was getting done. For instance, he and some other students bunked off one morning to go have pancakes, and missed the first three periods of school. Another time the school took the American students, their host students, and some other students, to Sea Paradise, which is like Sea World but much, much less crowded, all the more so for being a weekday. Roy really enjoyed the shark tank, with its underwater tube for people, which was considerably larger than Sea World's Shark Encounter exhibit. There were no lines for the roller coaster, either!
Getting to school every day was its own novelty. He and Naoya walked to the train station, took the train to a bus stop, then took a 40-minute bus ride to a stop near the school, then walked to the school, which sat atop a hill. It took over an hour each way to go to and from school and cost about $5 each day, and some students commuted from as far away as Tokyo. He was struck by how spread out the student body was.
One day when all the YIS students were taking a big exam, their equivalent of the SAT, the American students decided to go to Tokyo. The principal of the school offered to go with them, but they chose to be independent, and had a blast on their own! Roy felt his Japanese was the second-strongest of the group, although he didn't feel comfortable using it much, but one of the group was more fluent. Plus, by then they'd all had plenty of experience getting around by bus and train. They mostly went around to the shops, but also spent some time at an arcade game place. He came very close to buying a medium-sized plush Totoro at the Studio Ghibli store.
He was treated to a conveyor belt sushi restaurant twice during his stay, and also really enjoyed the ramen places. Breakfasts at home were generally rice with "other stuff," and occasionally toast, while lunch was a home-made box lunch with rice, chicken or fish, and some vegetables and other stuff. Roy says he likes the food in Japan better than the food in Germany or France, so he was very happy! He visited the Imperial Palace and Tokyo Tower. The temperature stayed above 90 through his stay, and fairly humid, so typical Japan summer weather.
There was a minor earthquake while he was there, but one time years ago an earthquake knocked out the power to the inter-city trains so Mr. Iuchi had to walk home from Tokyo, a trek that took 13 hours!
Here are all the photos we have of Roy during his stay, some emailed to us by his host dad, Mr. Iuchi and the rest from Roy's phone. In the second photo that's Roy with Naoya and Homma Sensei at the Tokyo/Narita airport (Homma Sensei is the organizer for the exchange program at YIS), and then Roy and Naoya with Mrs. Iuchi. The final photo shows The Iuchis and Roy at the Tokyo/Haneda airport.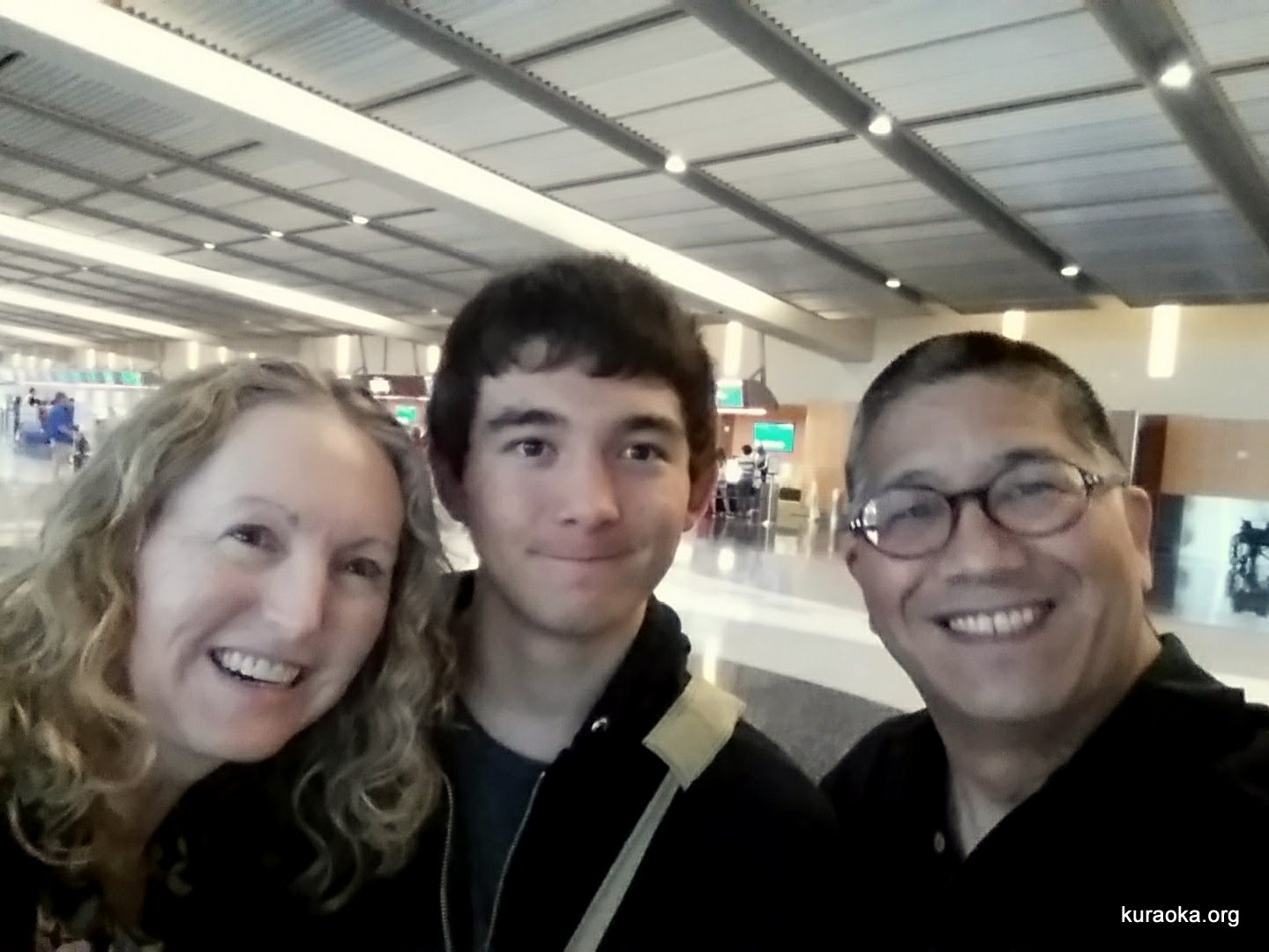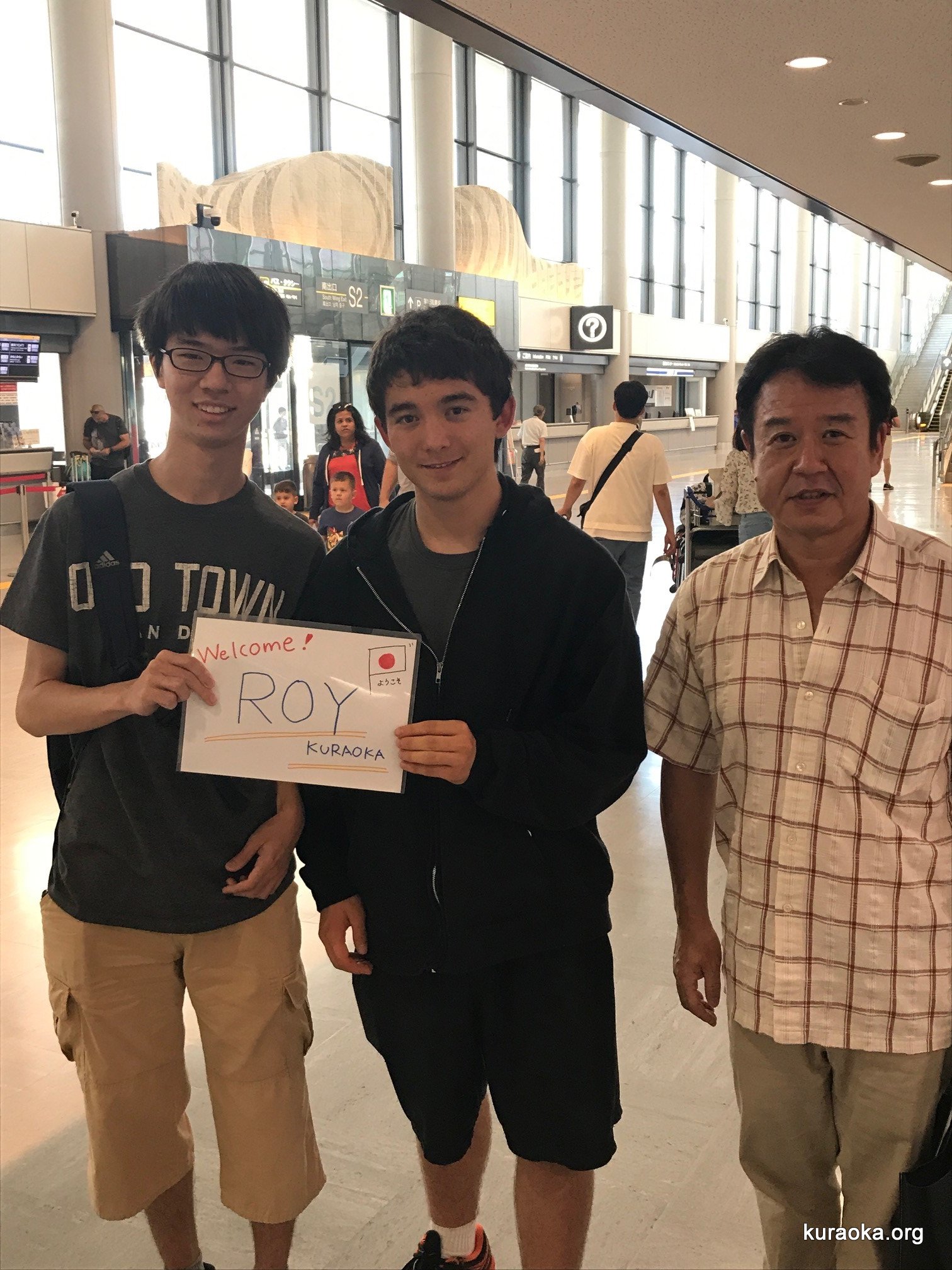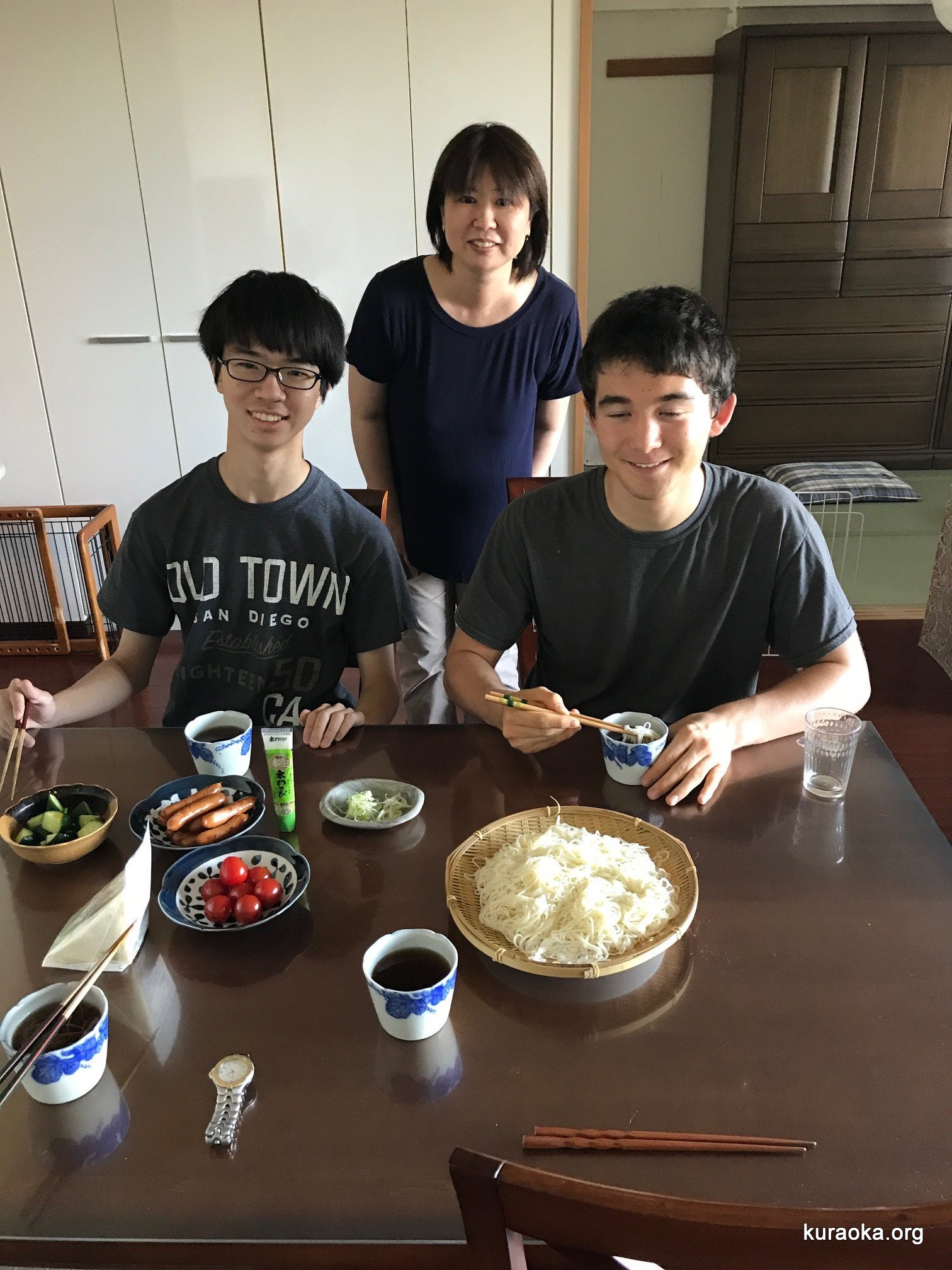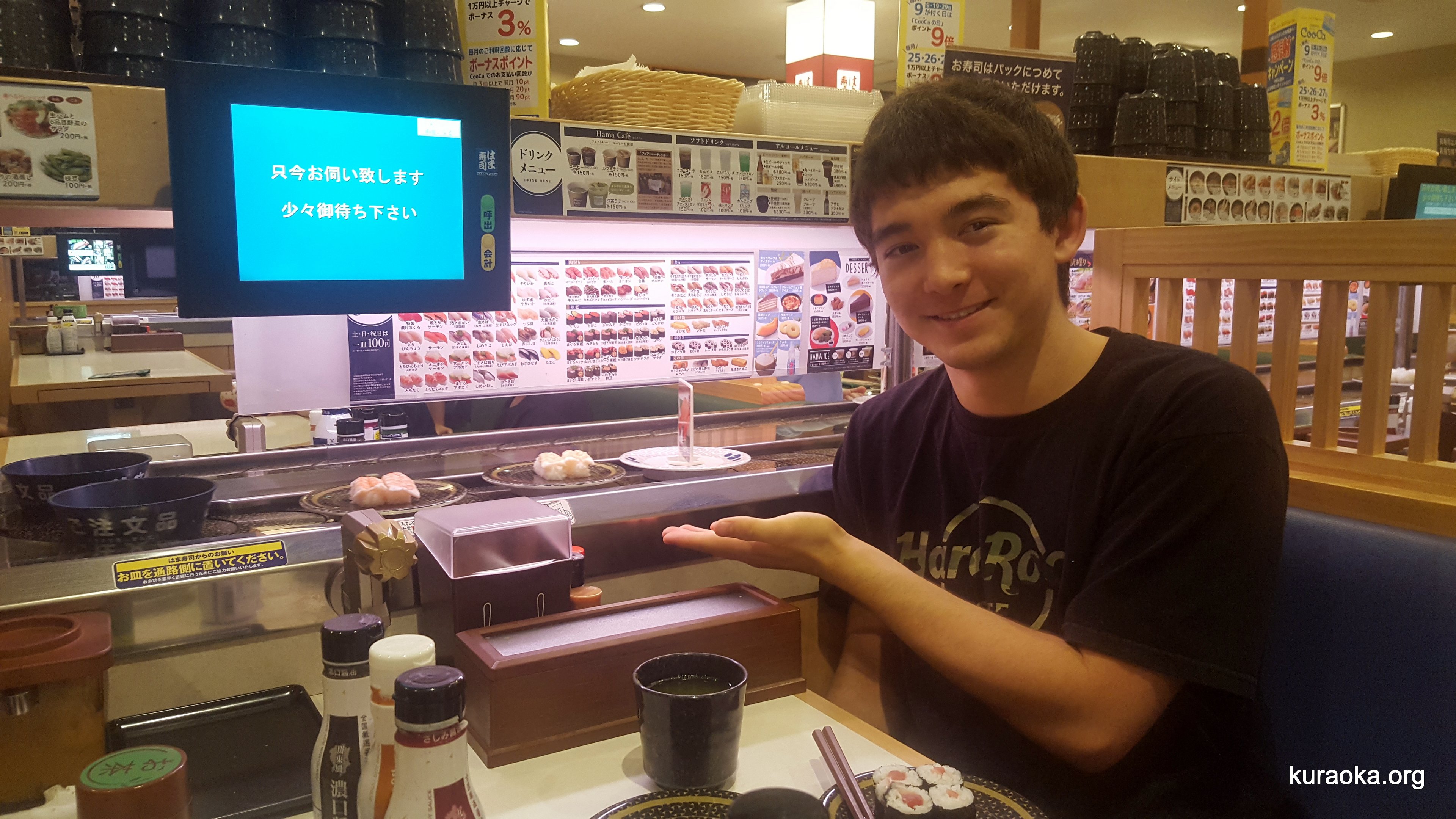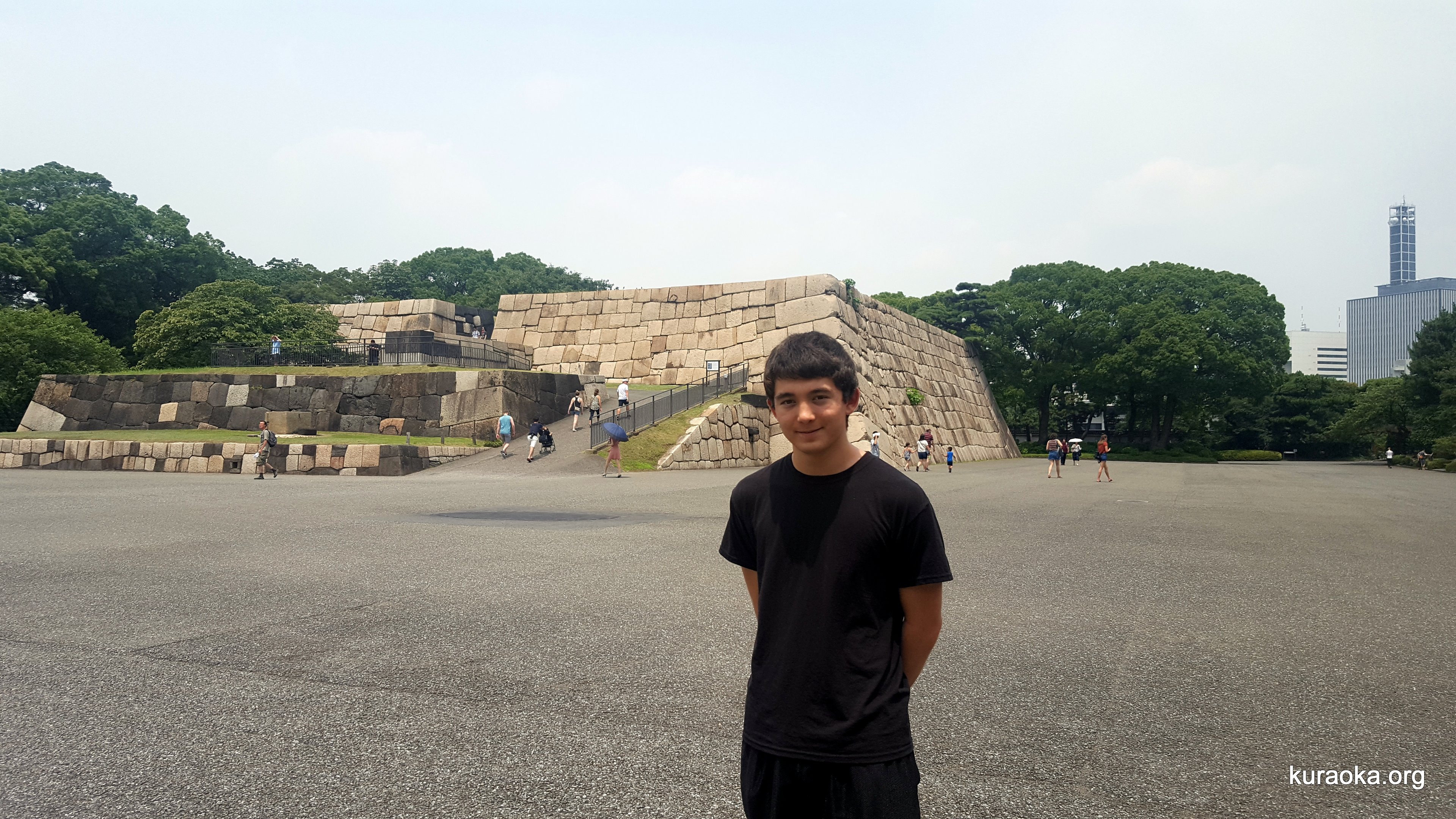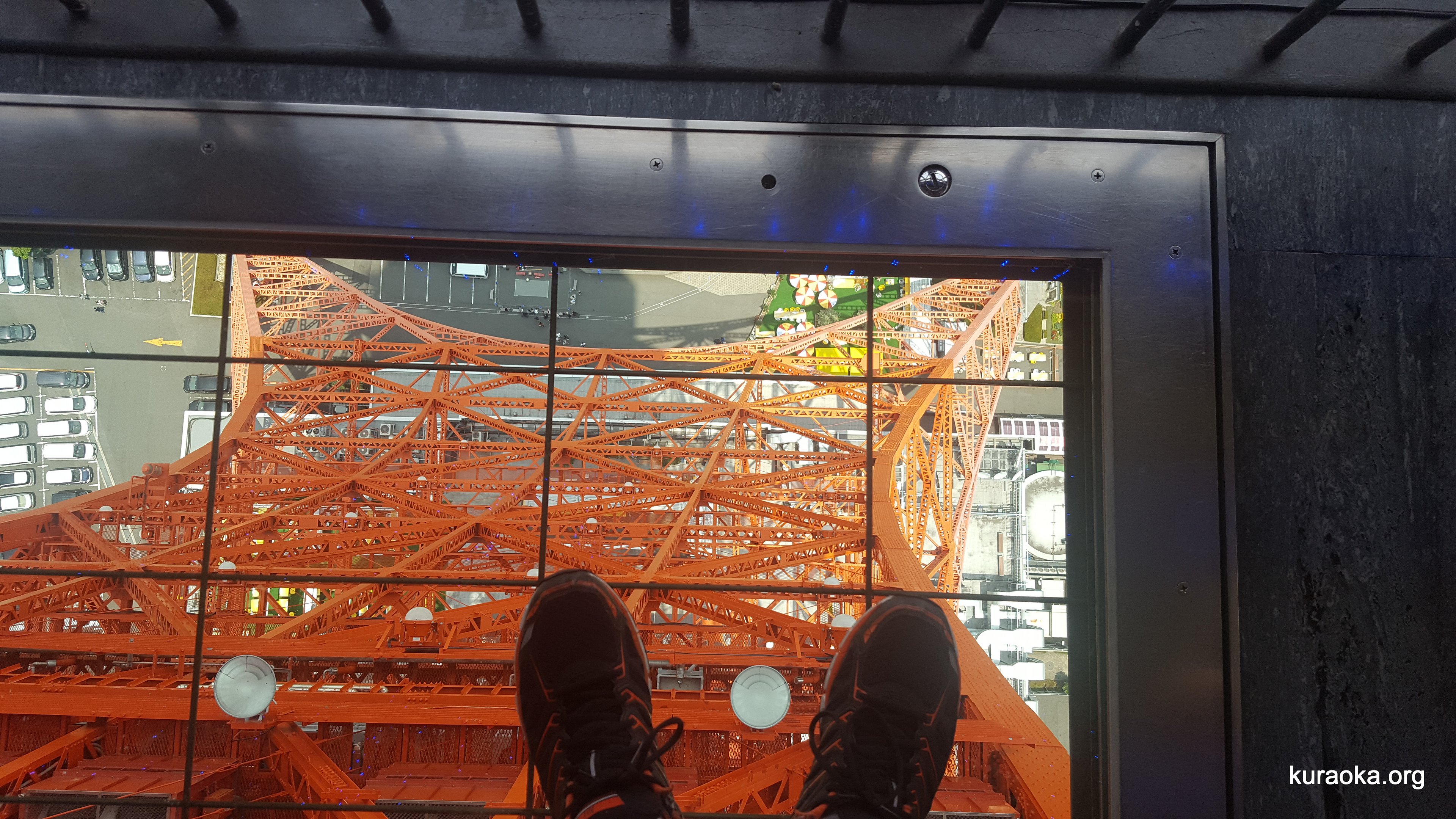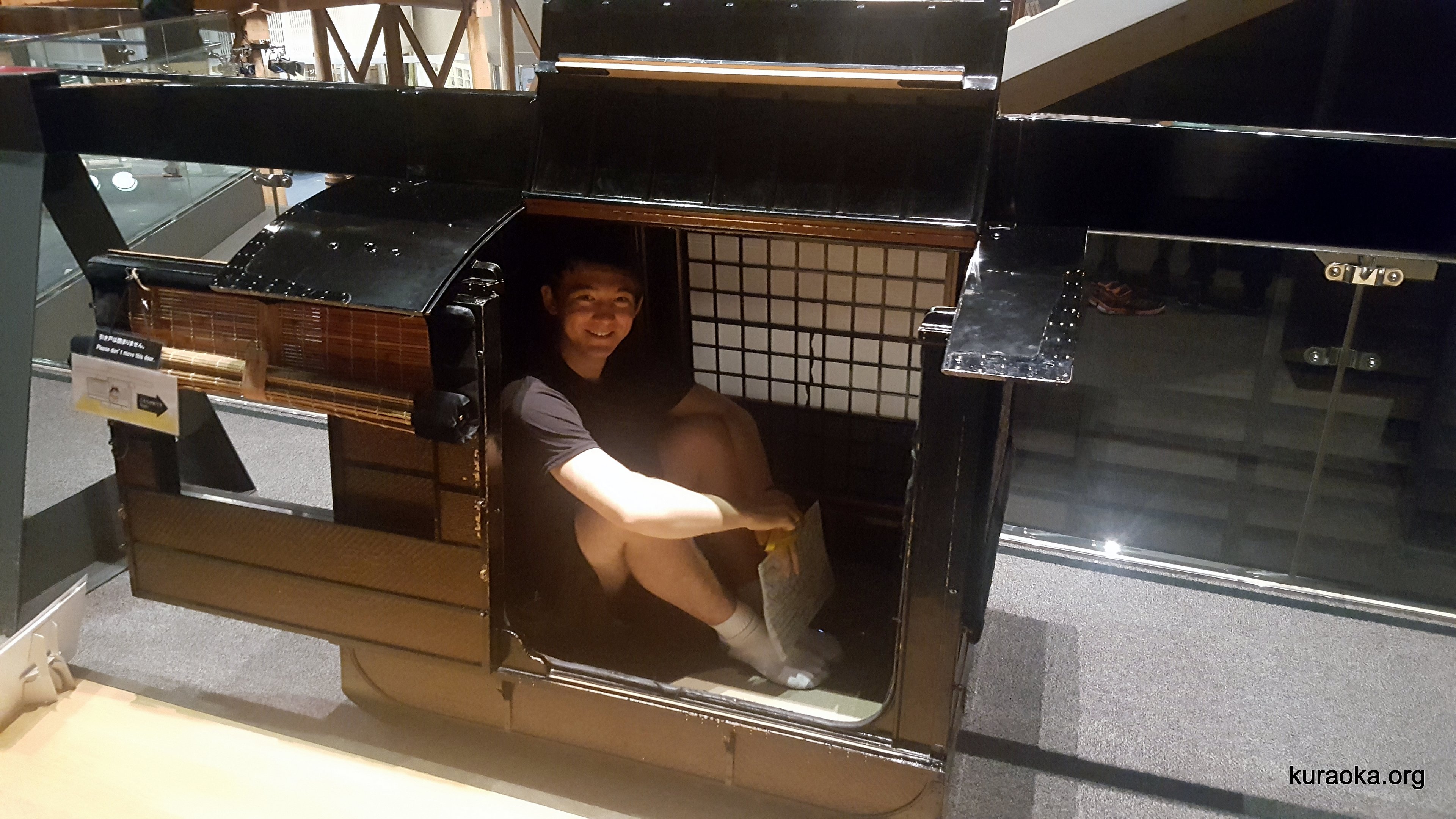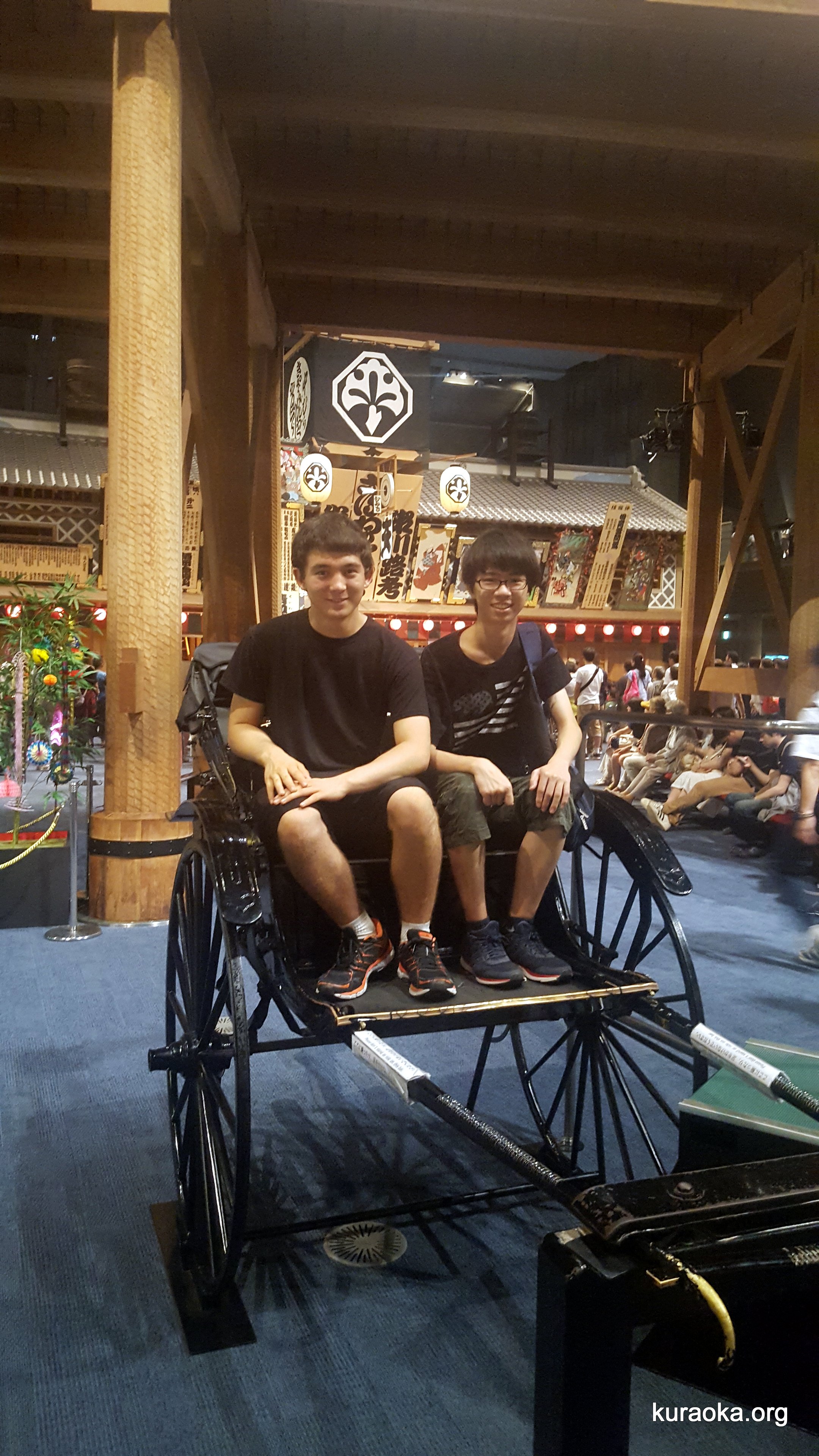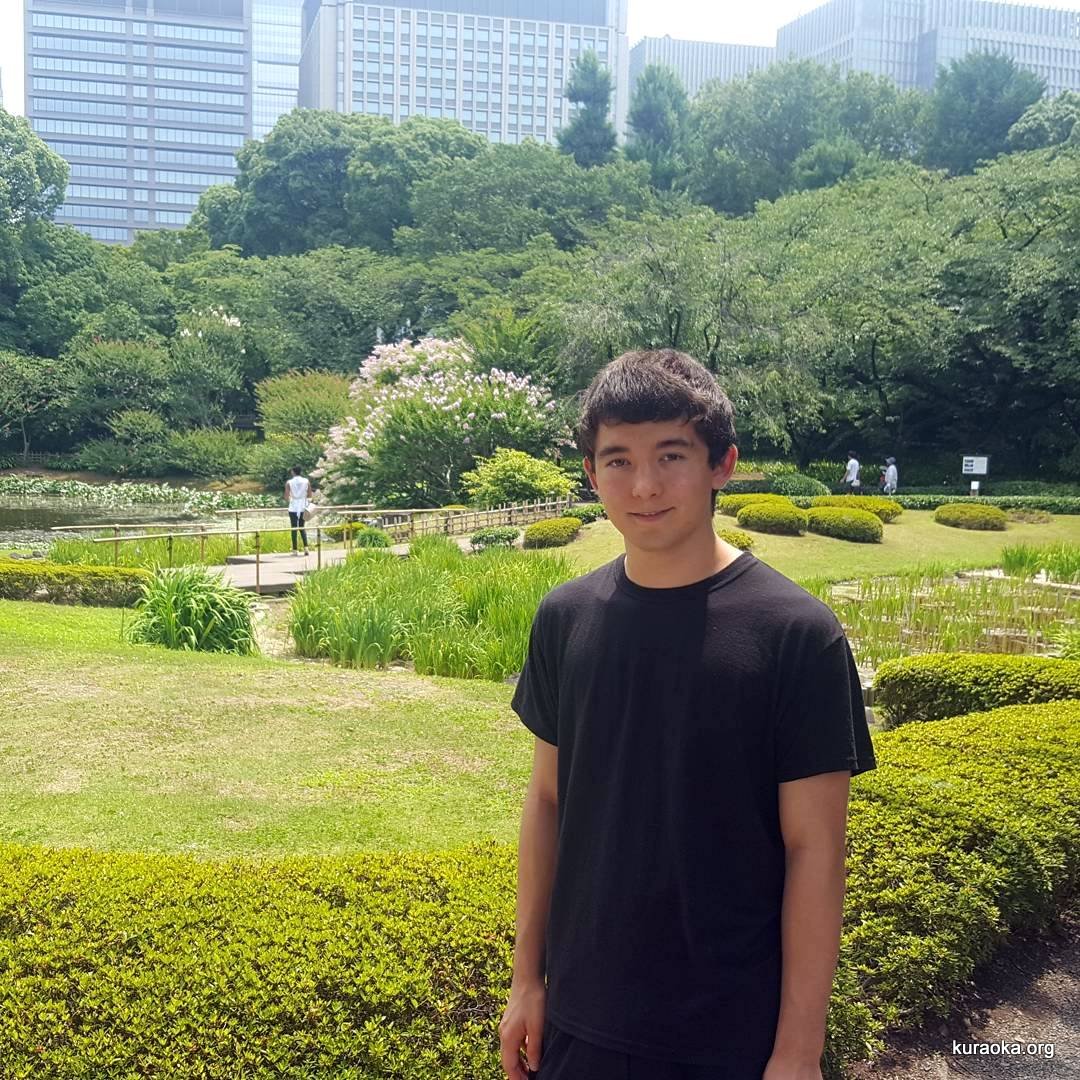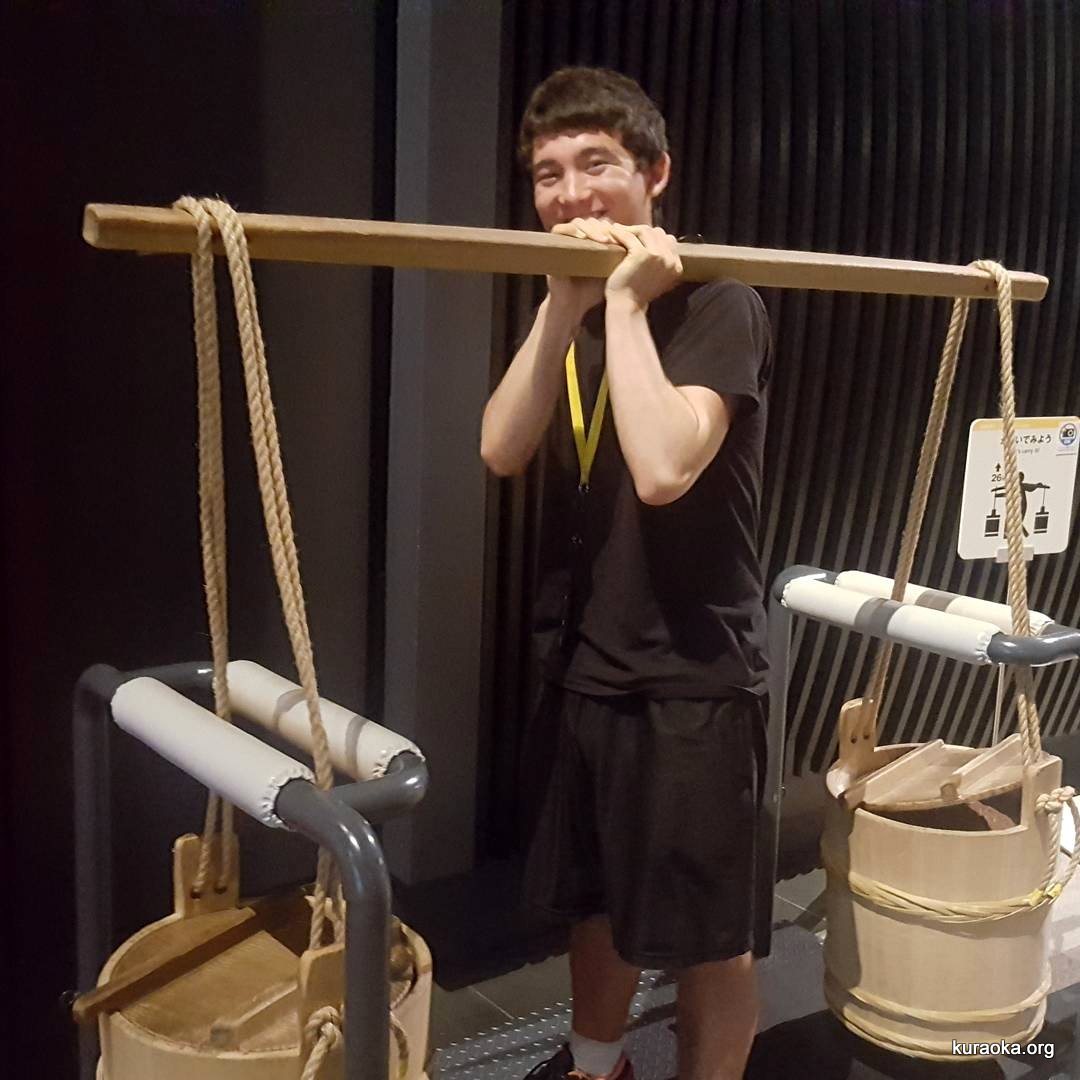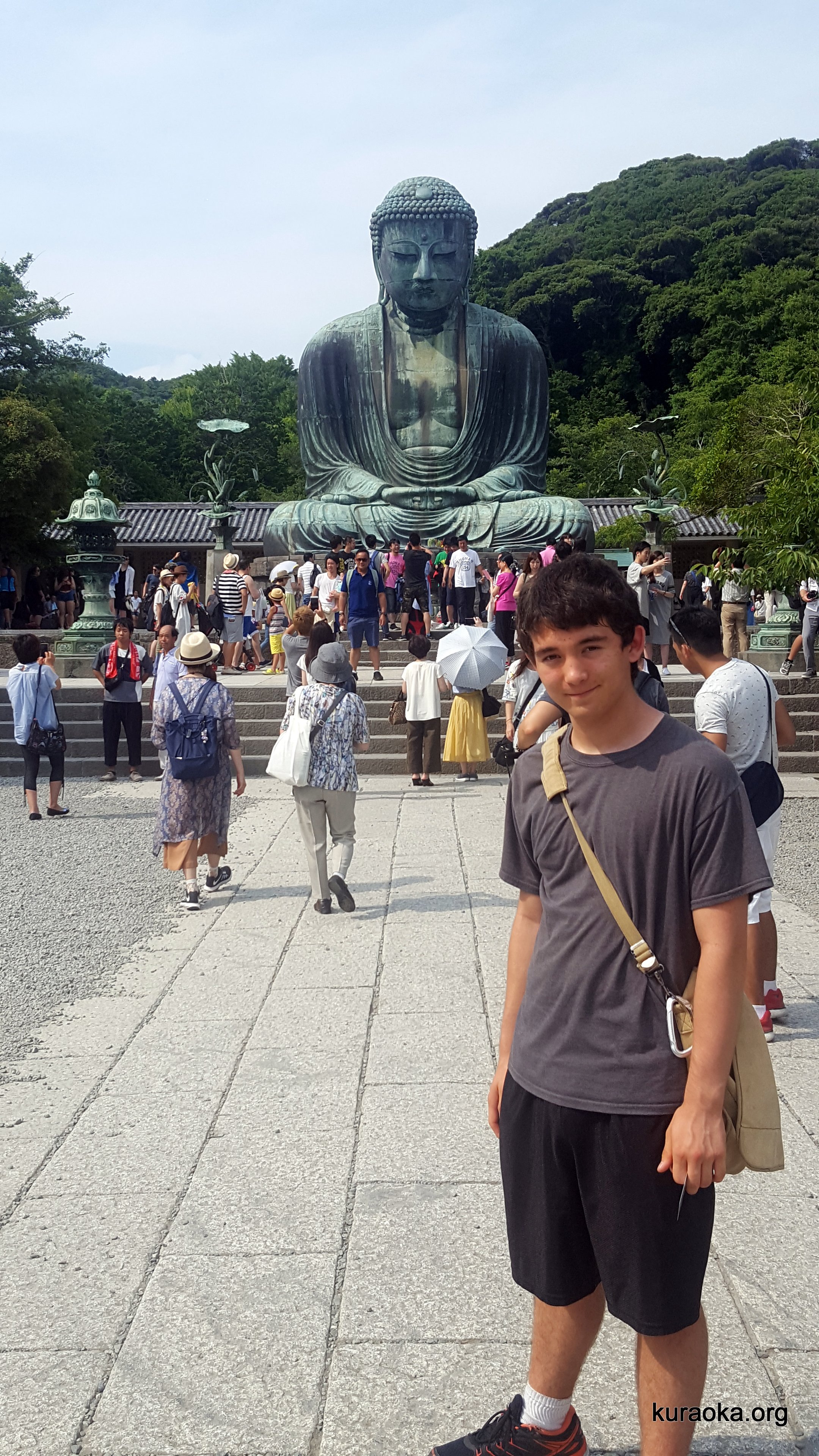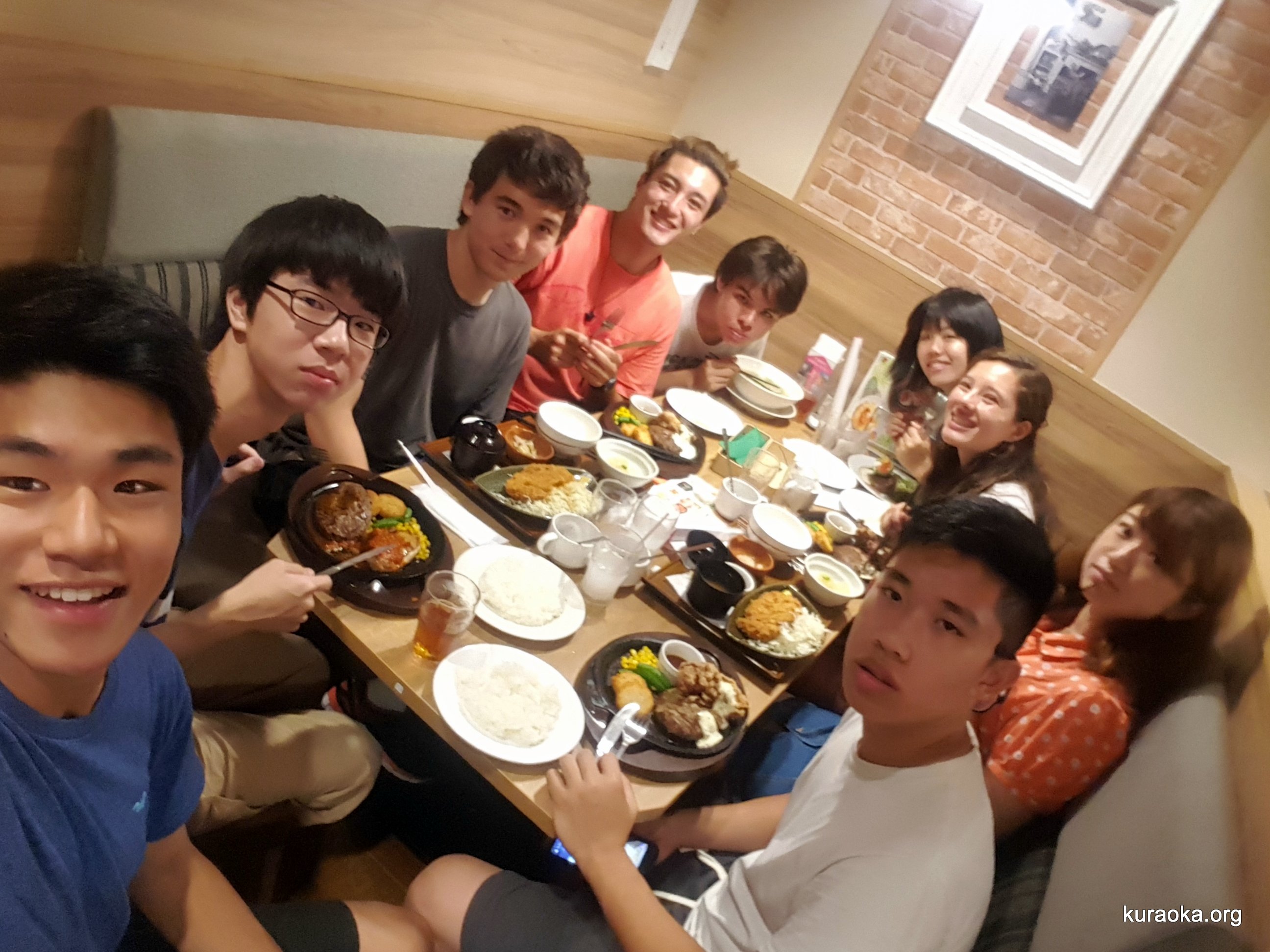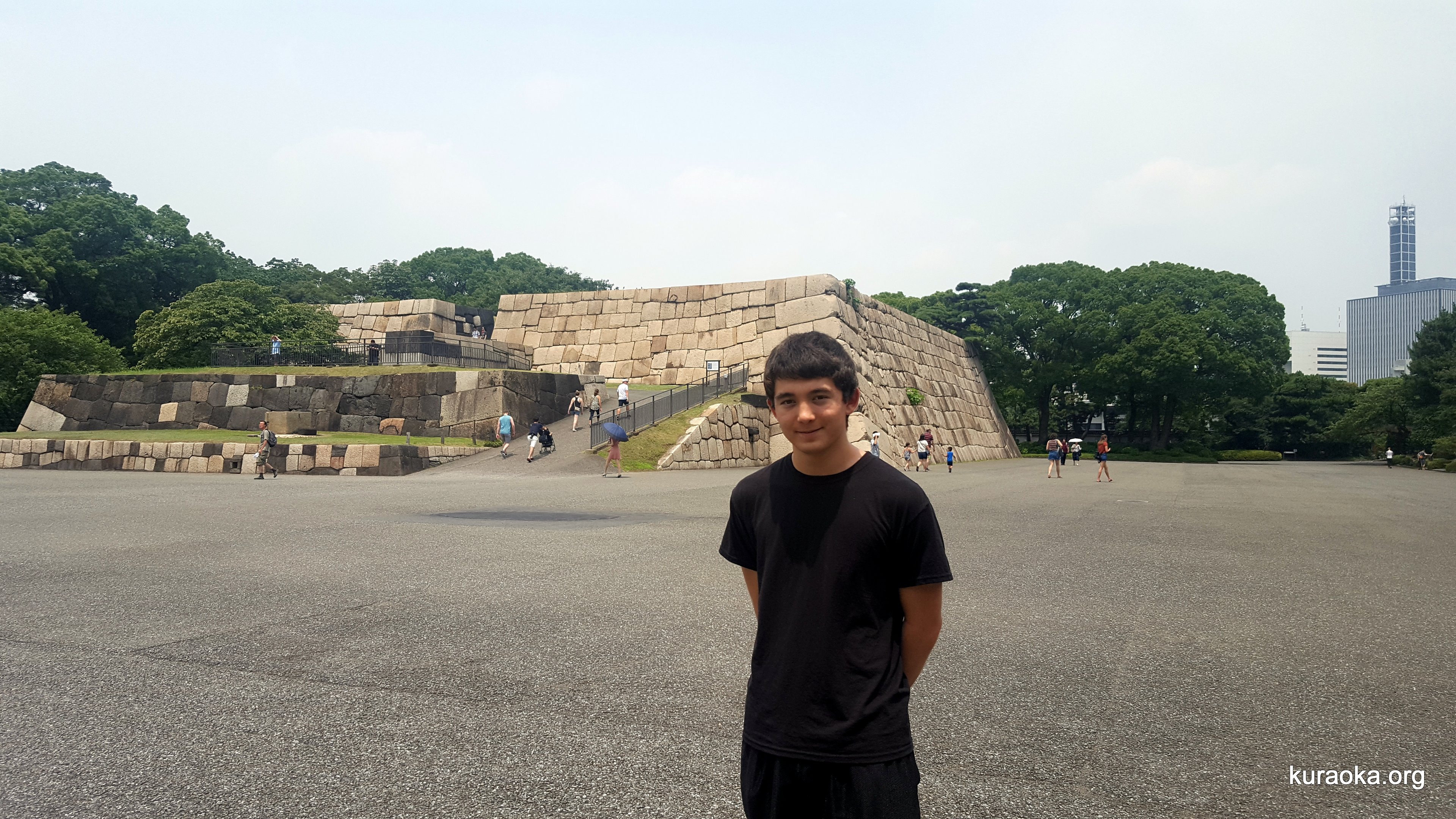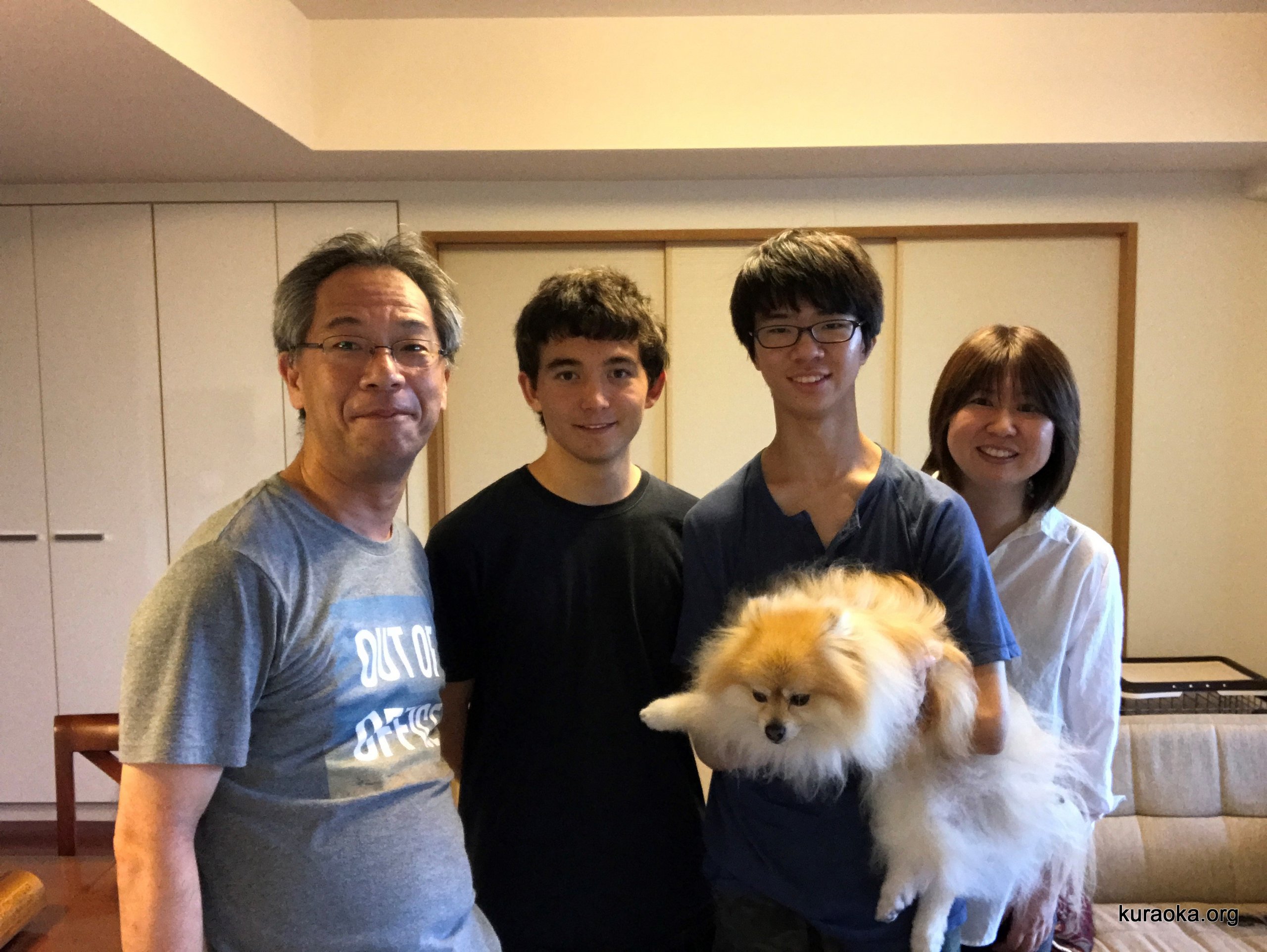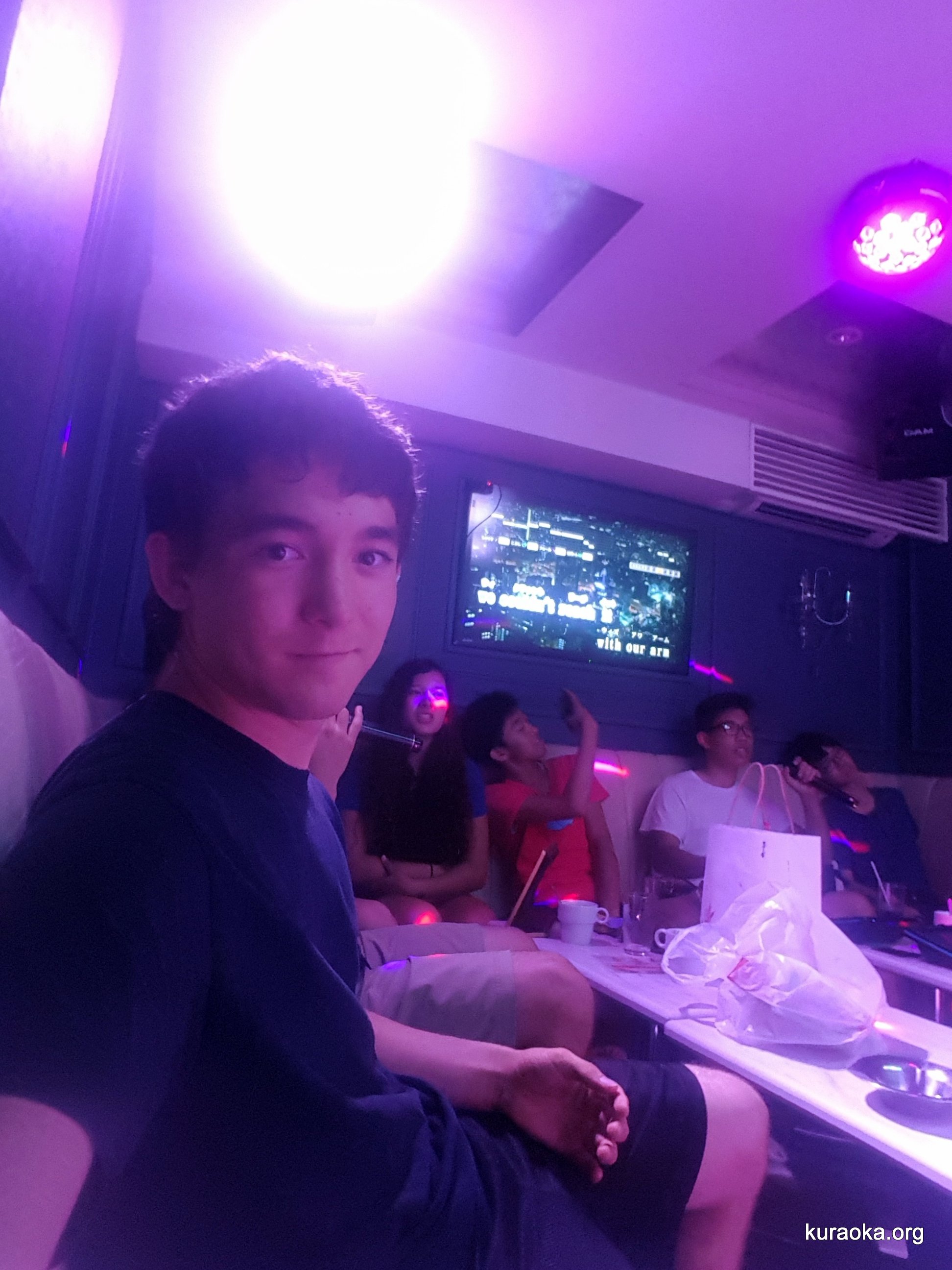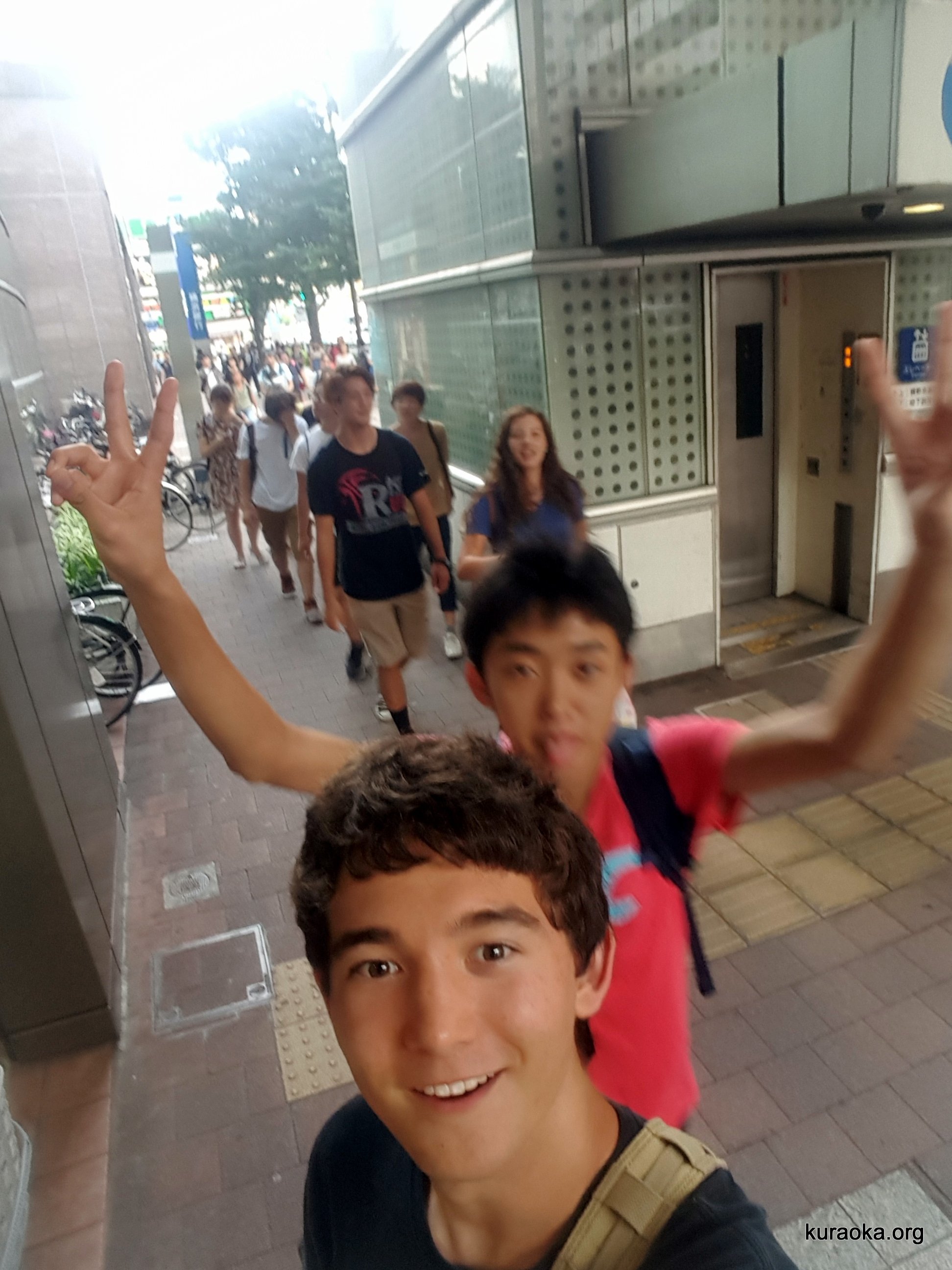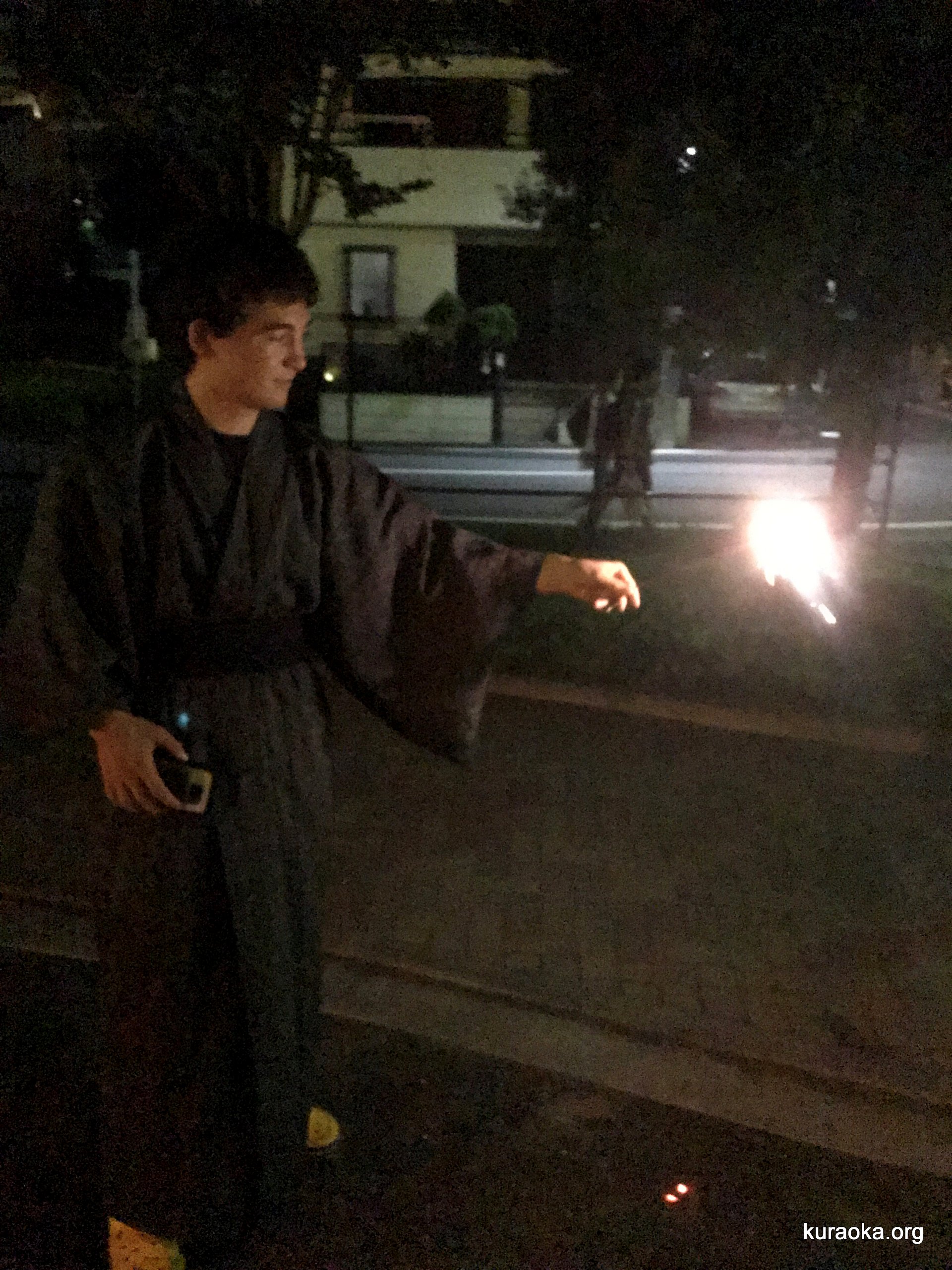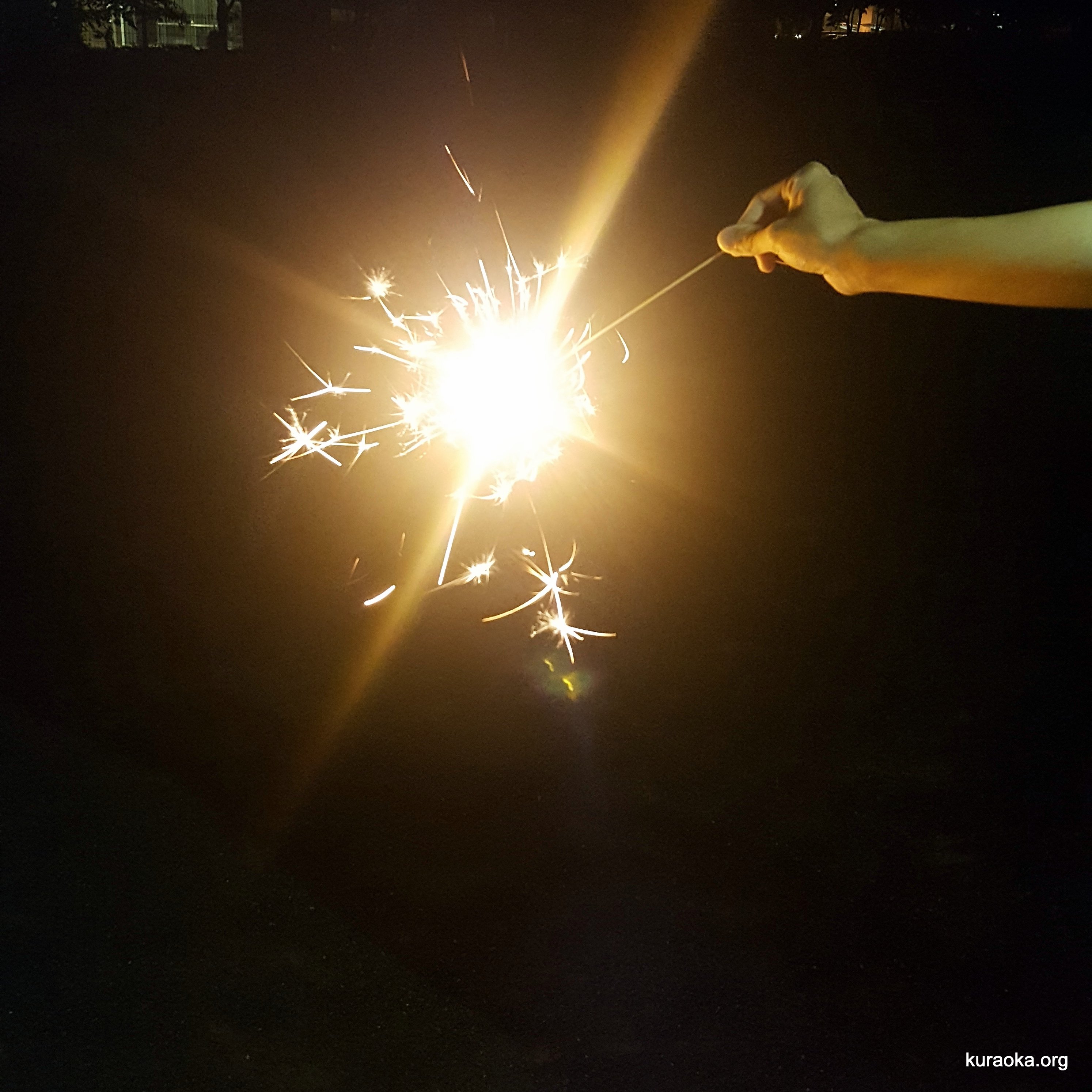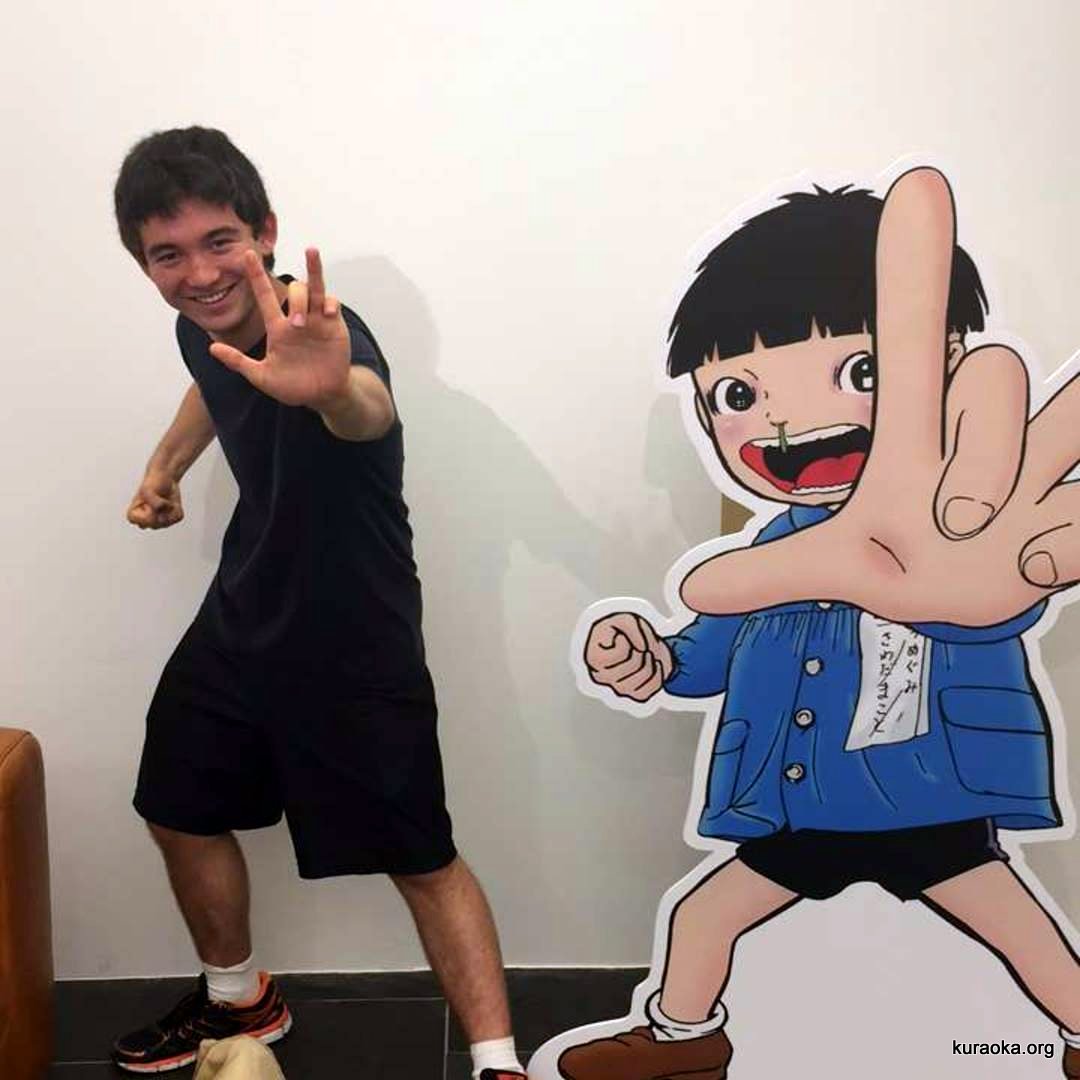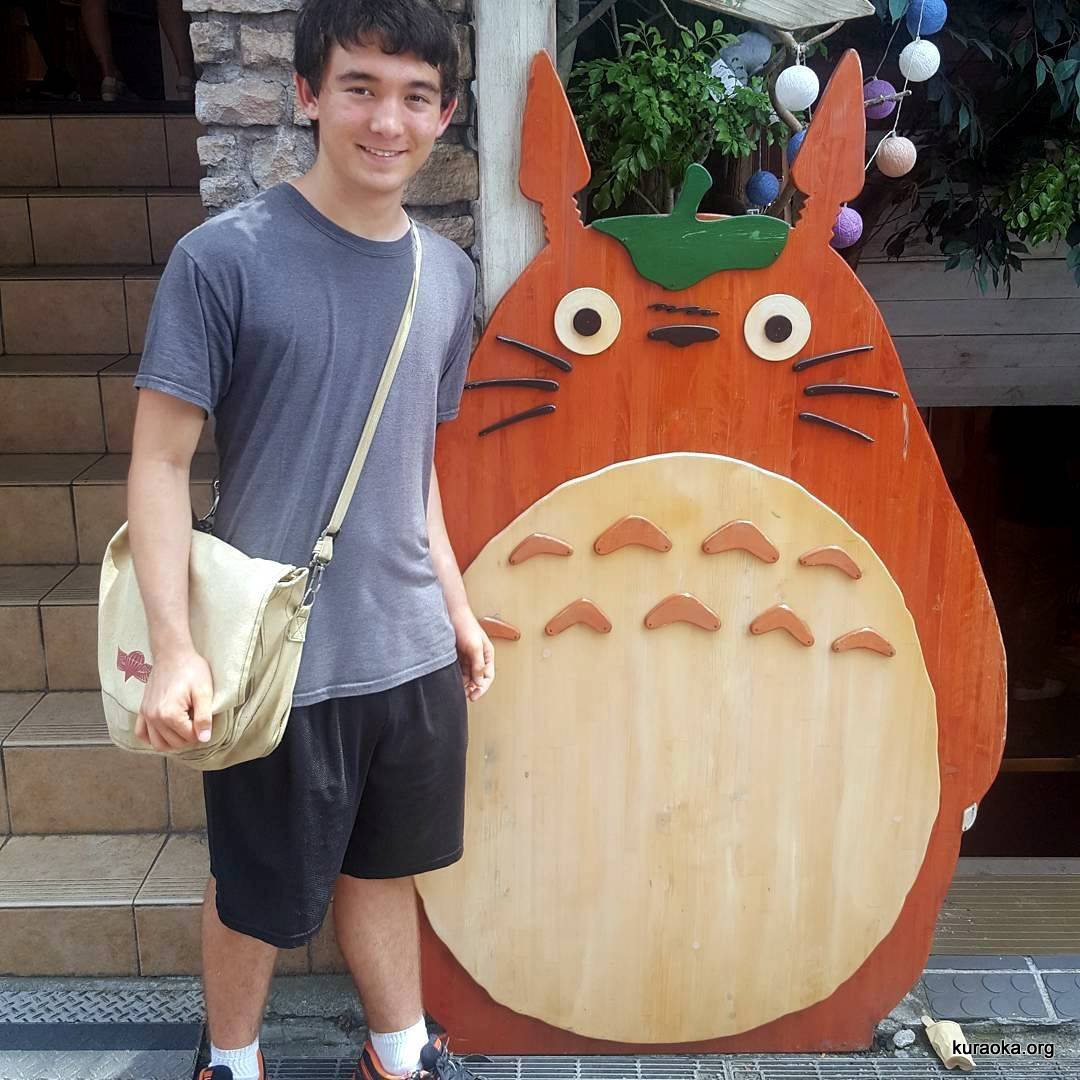 John picked him up from San Diego International Airport and stopped for Cotija on the way home. Everything in that little strip mall had changed since Roy had left, so it was all new! All the shops had new signs, a new outdoor patio slab had sprouted outside Cotijas, and Cotijas itself had changed the spelling of its name from Cotija to Cotijas! (We think the owners, who all seem related, are pretty casual about name tense, though they're careful to tell you that the "X" spelling is not related to them.) The food, though, was the same, and it was a welcome change: rolled tacos and bean and cheese burritos.
Ondine, meanwhile, drove Leo and two kids from Summit, Katelyn and Jon, to DeBenneville Pines near Angelus Oaks. It was a long drive, although not quite as long as she'd braced herself for. They made one stop on the way up for Subway sandwiches. By the time she got home, Roy was asleep.
So now Leo is off on his adventure in the mountains and Roy is home from his. And pretty soon, we'll be heading up to the Sierras to go camping!
In other news, it's Ondine's Toyota Prius's one-year anniversary today! Here's a look back in the archives. And, we had a very brief thunderstorm this morning! One loooong roll of thunder, then a spattering of rain for maybe 30 minutes or so. What a delight! John thought of waking up Roy, but let him keep sleeping. When Roy awoke, he said he'd heard the thunder but thought he was dreaming.
Neighborhood gas prices are about $2.99 per gallon.
Visit us often - this journal has been updated at least once a week since 1998!
Back to the Archives page
Back to the Kuraoka Family main page
Forward to the current Weekly Journal.