Germany Album 2004, Page 2
www.kuraoka.org
Our six-week house swap in Mülheim an der Ruhr.

Back to the first photo page
Relevant weekly journals:
August 11, 2004: a road trip to Ladenburg, Heidelberg, and Frankfurt.
August 16, 2004: Freilichtsmuseum und Fußball.
Visiting Desiree. We drove to Ladenburg, about a four-hour drive (3 hours by German standards, but this was our first long drive on the Autobahn). We had a wonderful weekend at their house in the beautiful countryside near Heidelberg.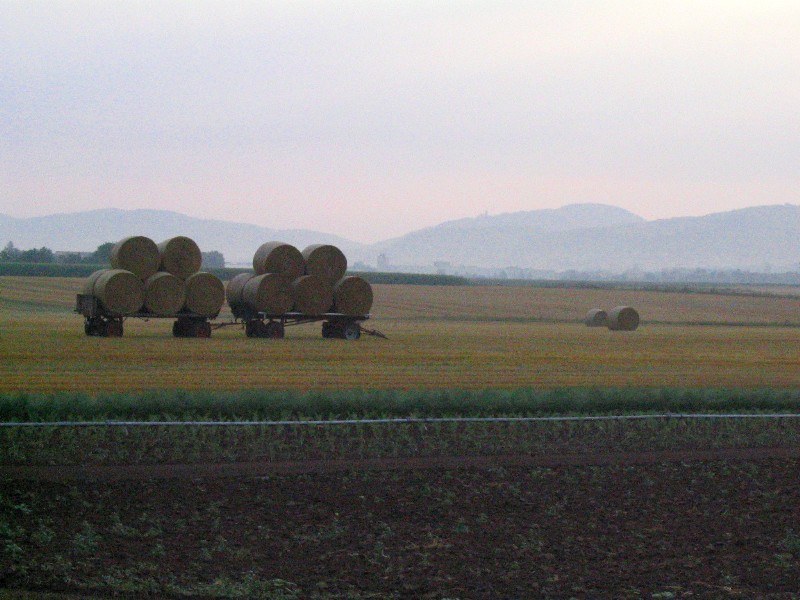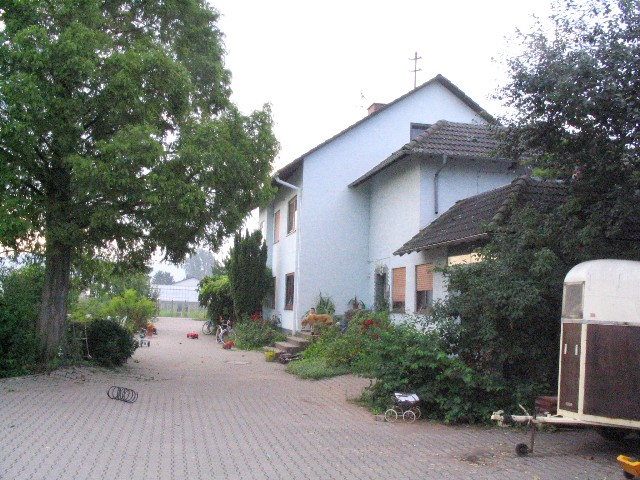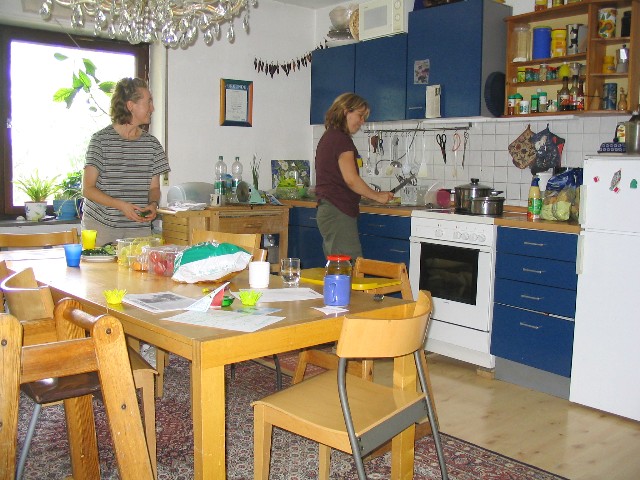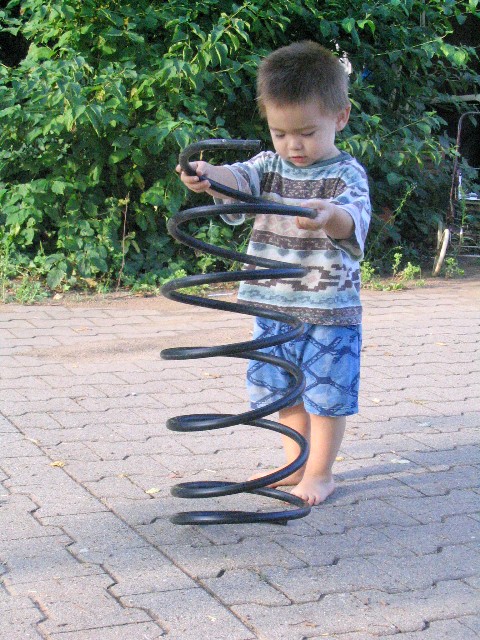 Click here for a short video clip of Till pushing Leo on a tractor. (780 KB)
Click here for a video clip of Leo running around Desiree's kitchen. (1.30 MB)
Seppl. Roy and Leo loved Seppl. In fact, by the end of our visit, Roy was Black Seppl, Leo was Brown Seppl, and Seppl, for reasons fathomable only to four-year-olds, was Red Seppl.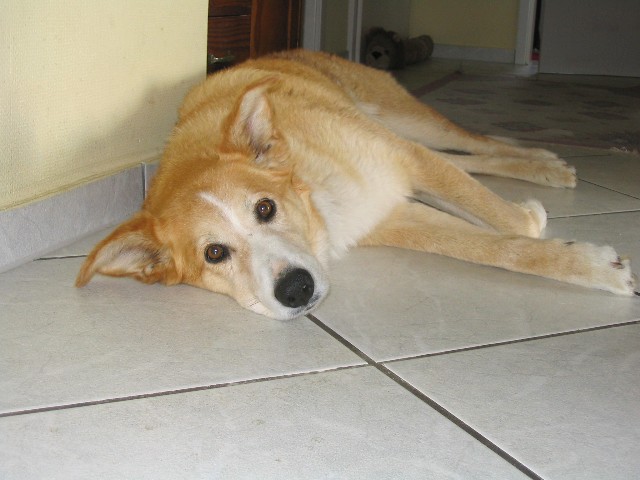 Heidelberg. We visited Desiree and Ondine's old college haunts in Heidelberg. John went into the castle with Martin, Paul, and Till, while Ondine, Desiree, Roy, and Leo explored the outer grounds.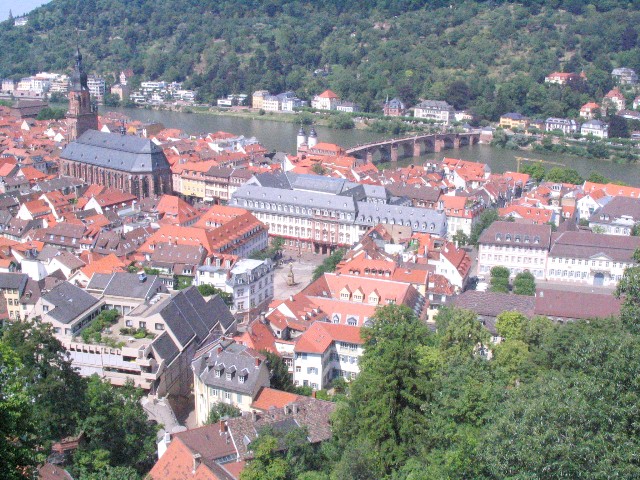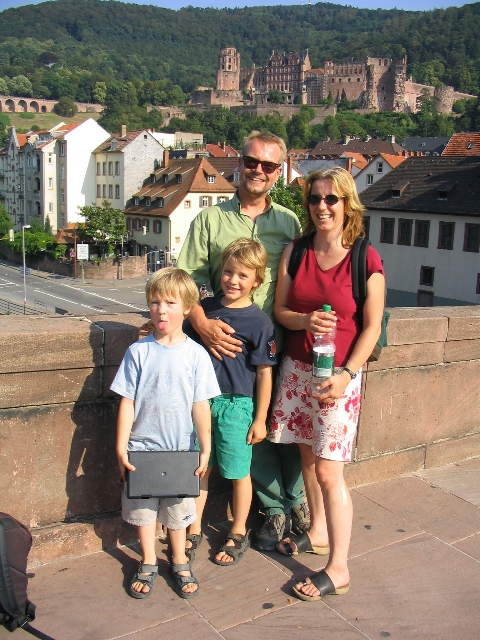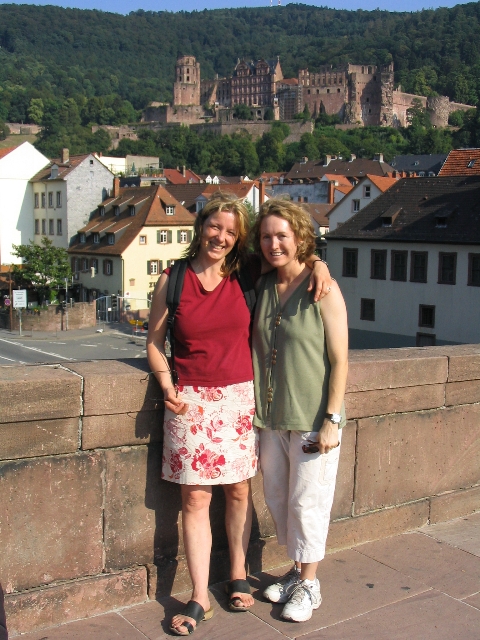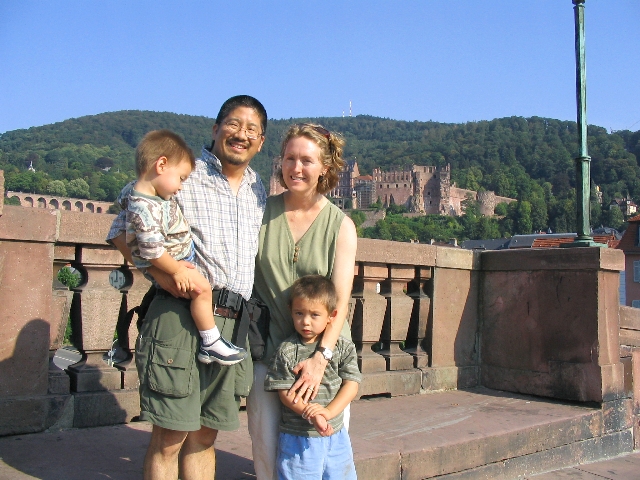 Hansjochem. On the way back, we visited Jürgen's brother, Hansjochem, his wife, Ulla, and his daughters Jule and Bille, in Neu Isenburg, near Frankfurt. Here's Hansjochem and his elegantly landscaped back garden.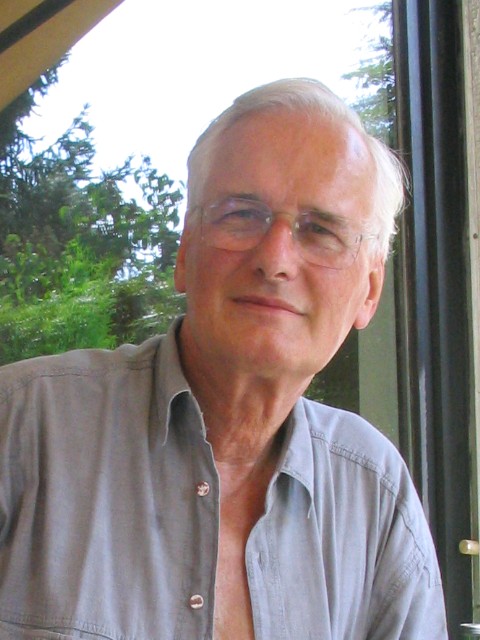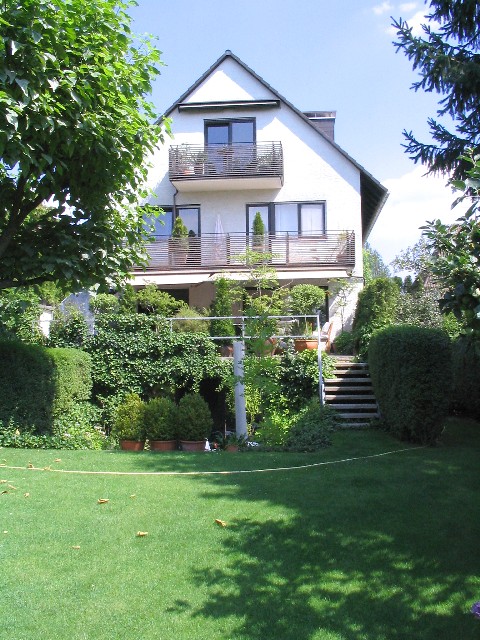 Westfälisches Freilichtmuseum Hagen. Patricia und Gregor invited us to tag along on their trip to this beautiful open-air museum, with various craftsmen doing things the old-fashioned way. This was a German tourist attraction for Germans - not a single sign was in English, and we only heard two people speaking English, and they were tourists from Australia. Leo collected an iron button embossed with a heart from the man below, plus a nail from the nail-maker. The last photo shows Roy with his friend (and ours) Veronica.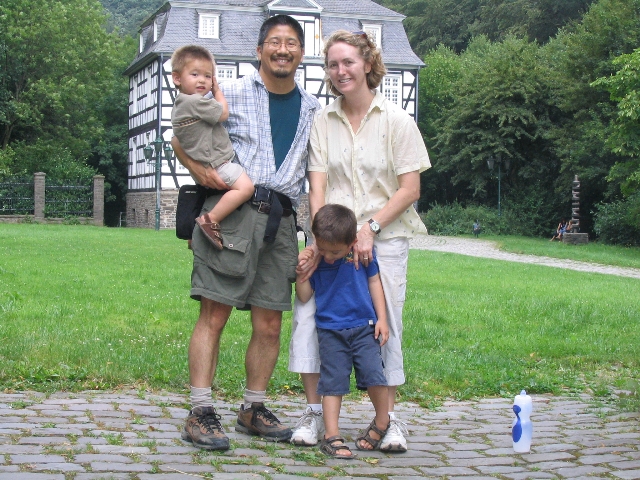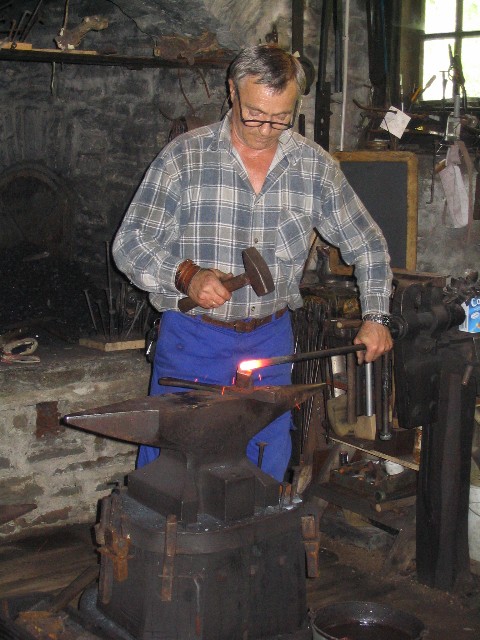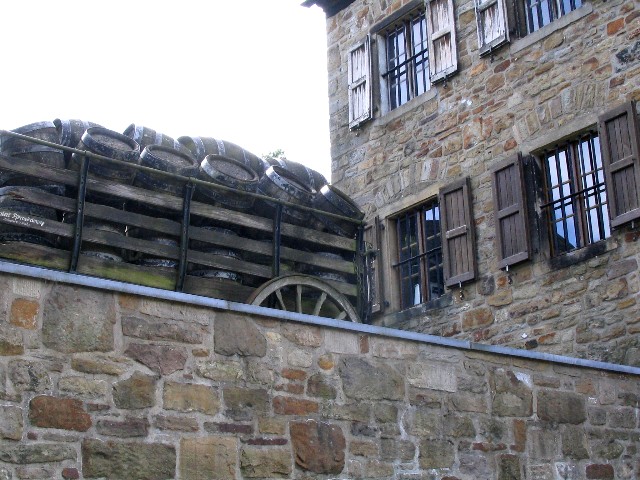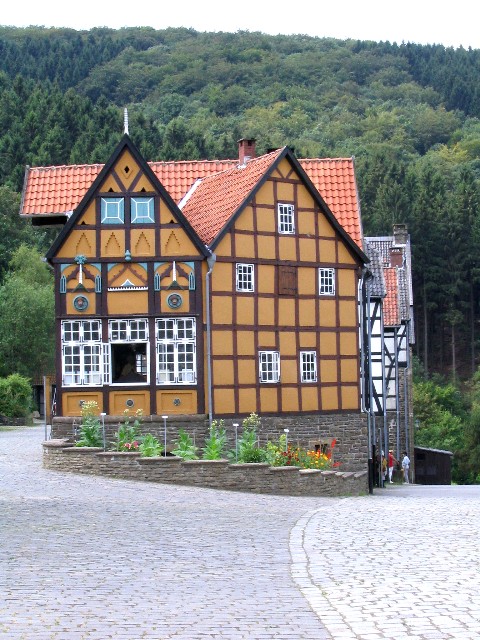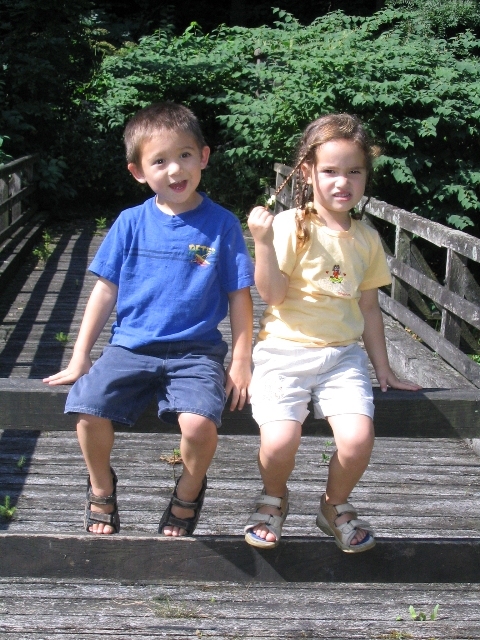 Click here to see a video clip of a man crafting a scythe using a hammering machine. (2.04 MB)
Click here to see the above video clip as a full-screen .avi (7.16 MB - huge file!)
Go Schalke! Ilka treated John to a fußball game at the new Arena AufSchalke, in Gelsenkirchen. Ilka's husband, Hendricks, dropped Ilka and John off near the stadium (Lulu, their dog, went to the office with Hendrix). Our adopted home team, FC Schalke 04, beat 1 FC Kaiserslautern 2 to 1. Here are some shots of the inside of the arena, and part of the crowd of 60,956 watching live.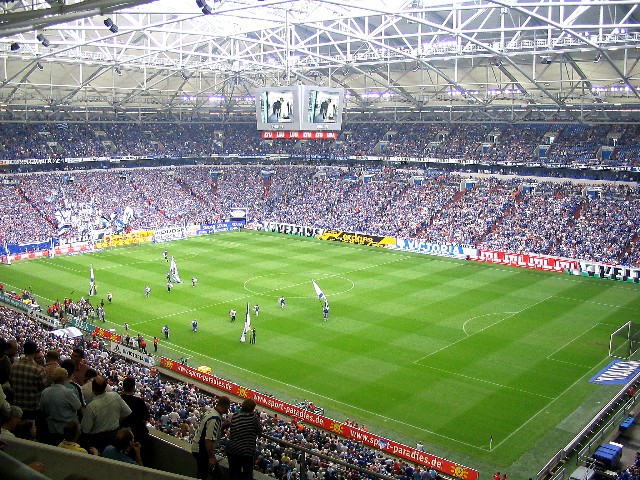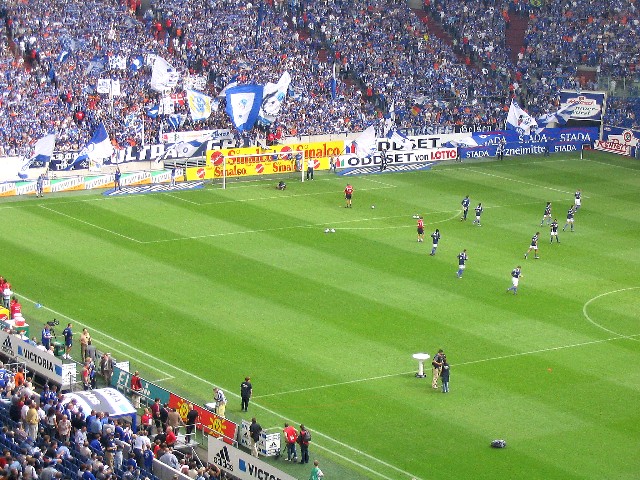 Stadtmitte. We drove to Forum, an outdoor pedestrian mall. It was Sunday, so the shops were closed, except for cafés. Here we are having an eis. Around lunchtime, we stumbled on the Kulinarischer Treff, a sort of a "taste of the Ruhrgebiet" featuring local restaurants. We bought two different plates at five Euro each. Yum!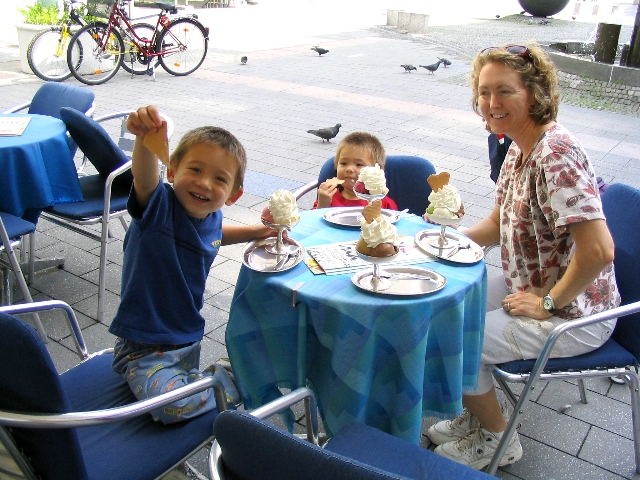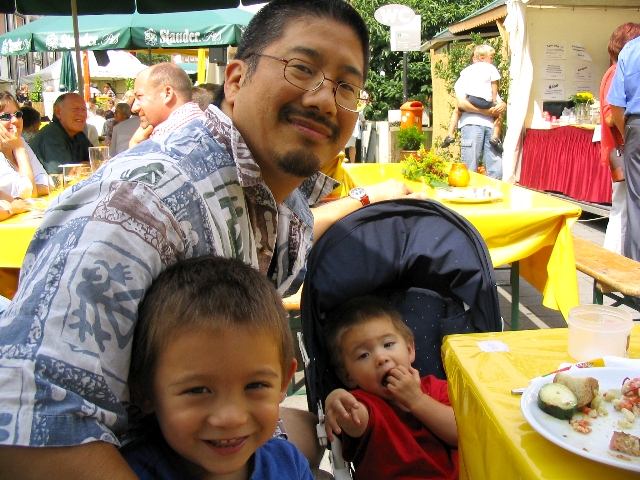 Onward to the third photo page
Back to the Kuraoka Family main page