Germany Album 2004, Page 3
www.kuraoka.org
Our six-week house swap in Mülheim an der Ruhr.

Back to the second photo page
Relevant weekly journals:
August 20, 2004: Köln, picking up Barbara und Bill
August 24, 2004: Barbara and Bill arrive, Broicher Ritterspiele, Oberhausen
En route to Köln (Cologne). Here we are at Duisburg Hauptbahnhof, the big train and bus station near us.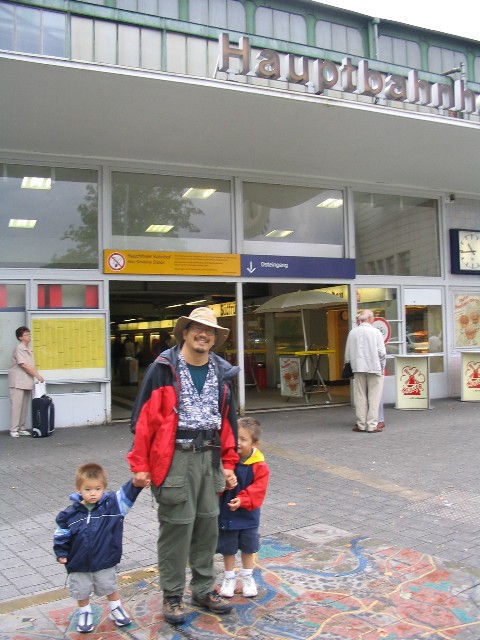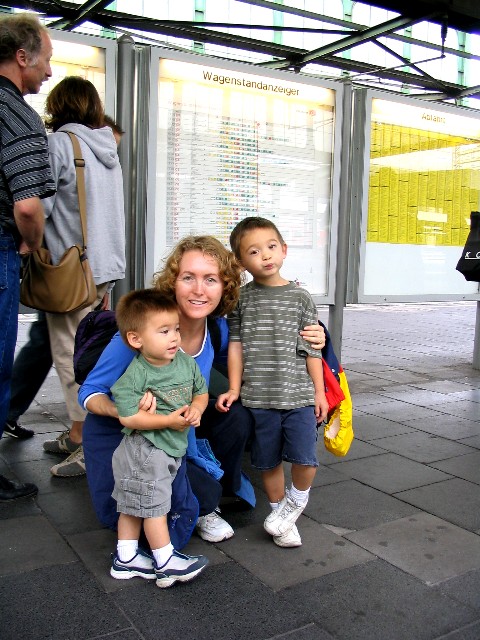 Kids on ICE. We had the good fortune to catch the ICE, the fast train. Here are Leo and Roy enjoying their first German train ride. We were surprised to see that DB now stands for "Die Bahn" instead of "Deutsche Bahn." Must be some EU thing.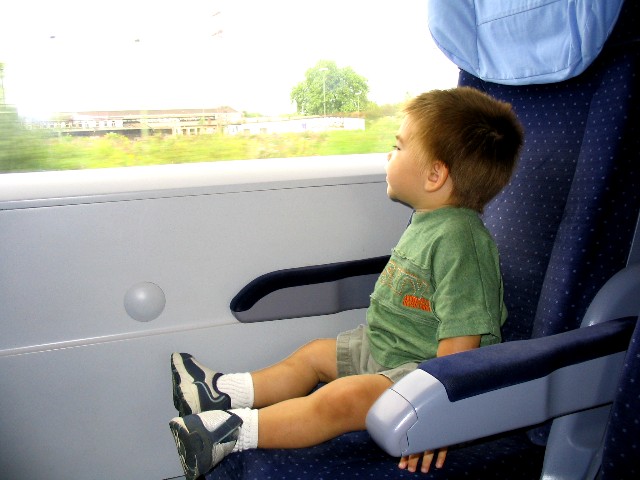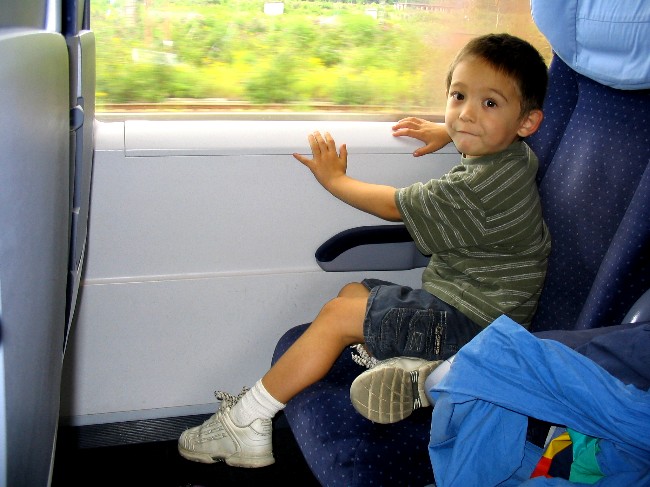 Köln. The Köln Hauptbahnhof is directly across from the Dom (Cologne Cathedral). What an impressive sight!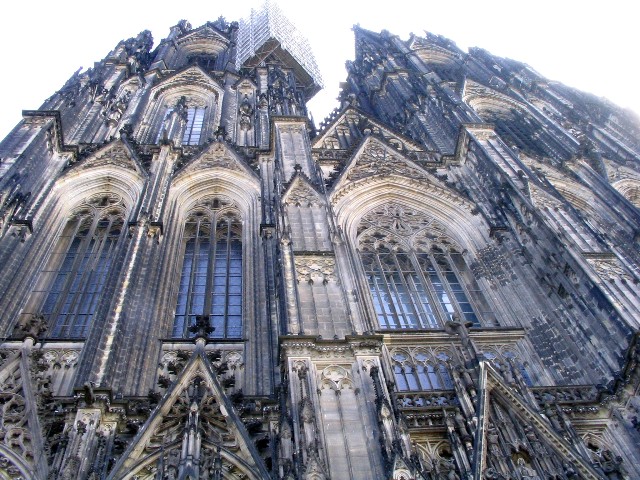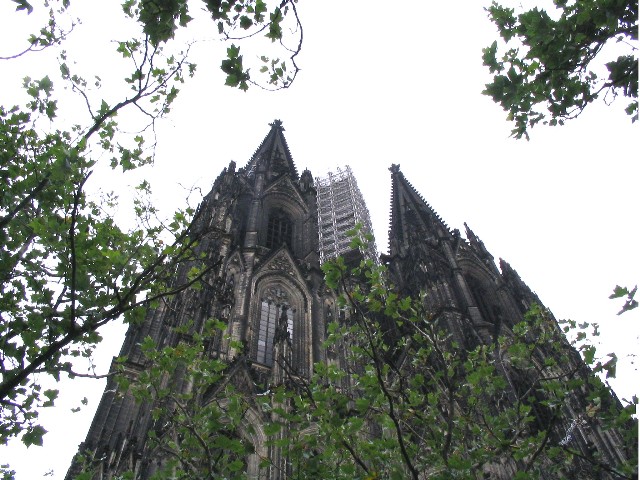 Click here to see a short video clip of street entertainers in front of the Dom. (1.33 MB)
Click here to see the above video clip as a full-screen .avi (6.40 MB - big file, but better detail!)
Köln Dom Cam: See the Dom live on this webcam. (External link)
Köln Turm Cam (interactive): you can control the camera! (External link, requires JavaScript enabled)
Ondine und Leo. The train ride back was a regular train. Here are Ondine and Leo. When we got back to our "Germany Home," we were invited in for kaffee trinken with the Hocevars, our very nice downstairs neighbors! They gave Roy und Leo stuffed mooses. Meese? Elche.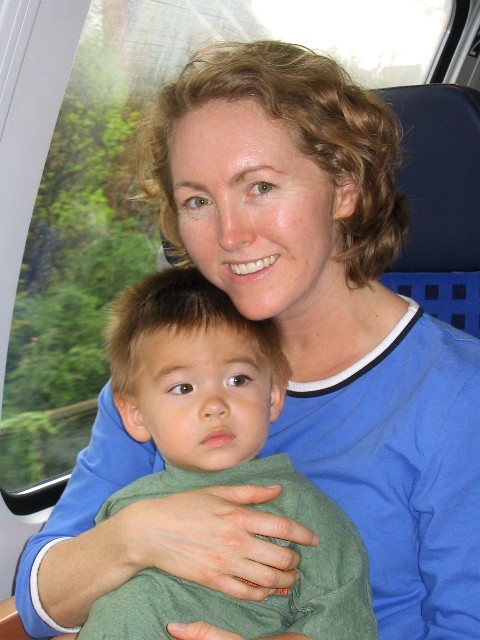 More matsch-spielplatz. Roy and Leo at the matsch-spielplatz, at MüGa, with Patricia und Veronica. Roy climbed a tree for the first time.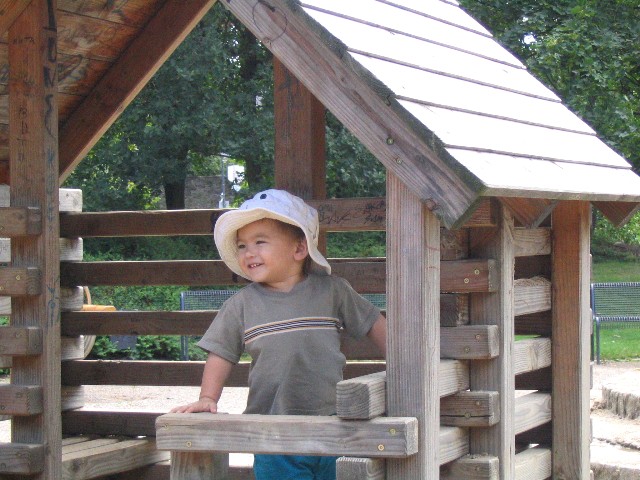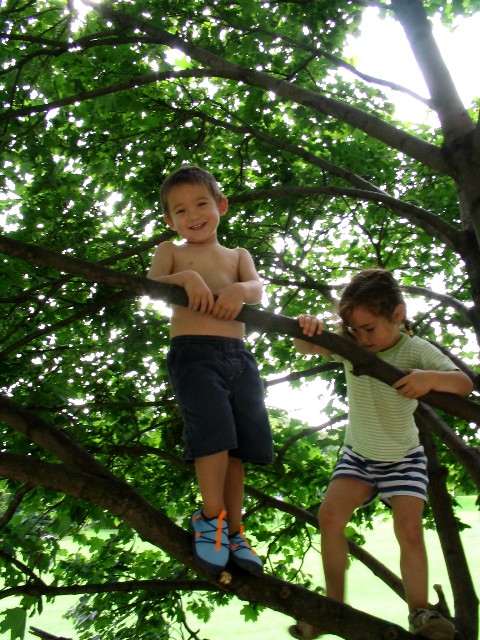 Click here to see a long video clip of Roy und Leo playing at the matsch-spielplatz. (7.5+ MB - big download!)
Barbara and Bill arrive in Mülheim! Roy und Leo were very surprised to see Grandma Baba and Grandpa Billy at the door. But first, here's a video clip of Roy that we just had to put up right away. Then, some photos of the kids und grandparents.
Click here to see a video clip of Roy's latest amazing trick. (2.73 MB)
Click here to see a video clip of Leo enjoying some time with Ondine and Barbara. (2.89 MB)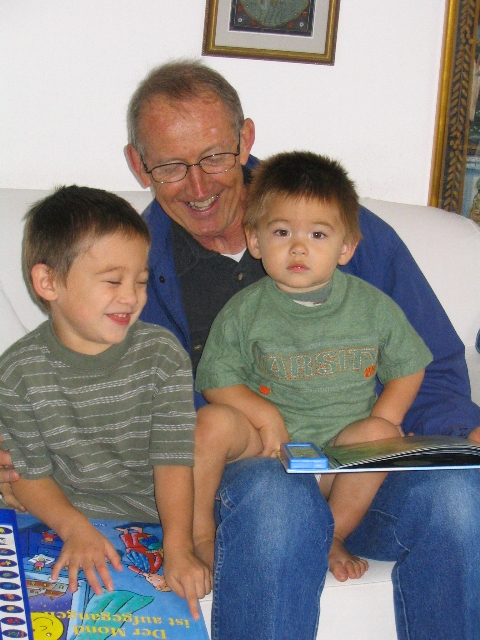 Click here to see a ridiculous and (thankfully) very short video clip of Bill und John practicing their umlauts. (800 KB)
The Broicher Ritterspiele is a Medieval Fair held on the grounds of an actual local castle, the Schloss Broich. We went sans kids, our first outing without Roy and Leo. That might explain how relaxed we look!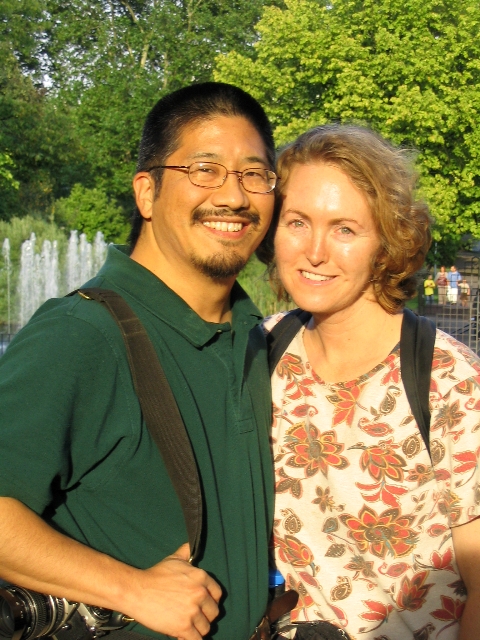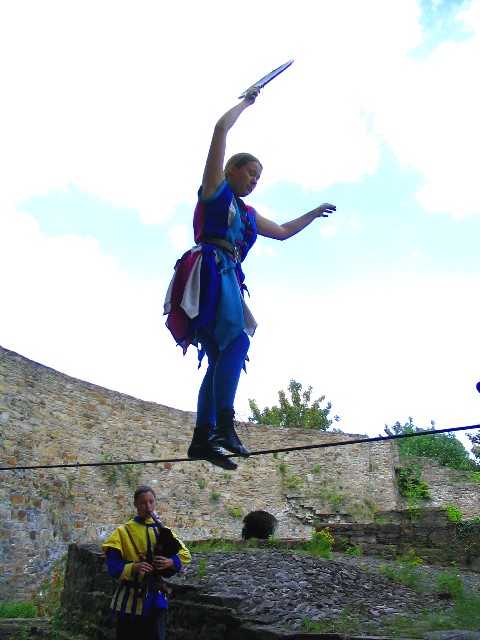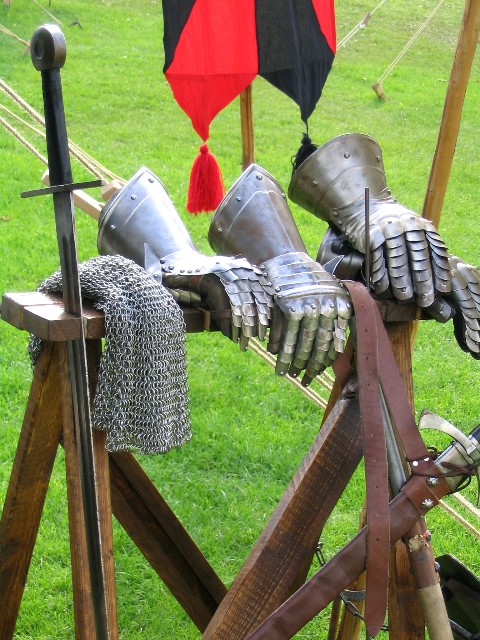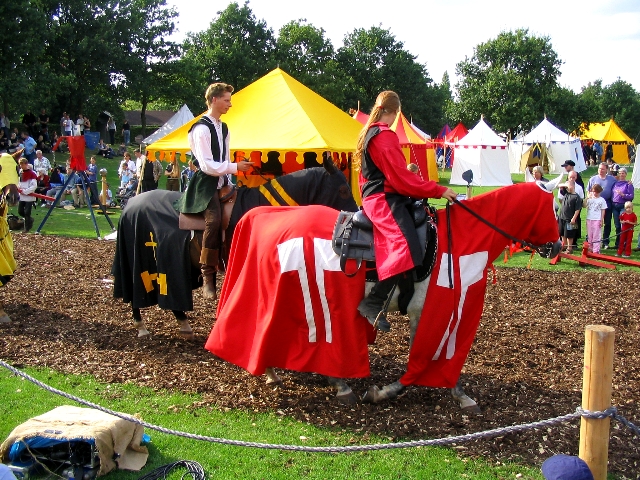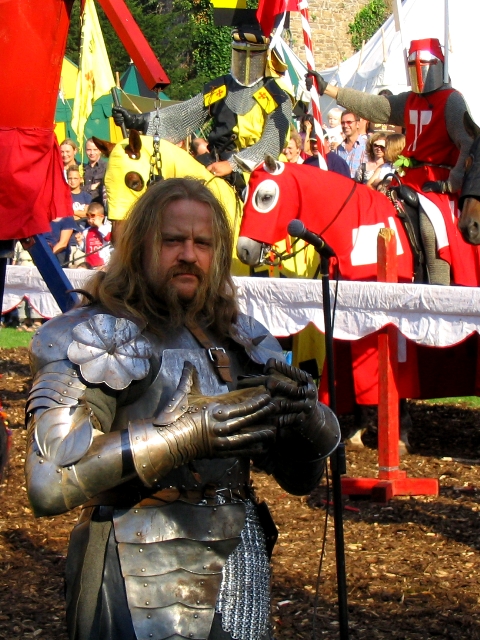 Click here to see a long video clip of the Ritterturnier. The plot concerns a tournament for the hand of a lovely princess. The bad guy's flunky fixes one of the matches by stopping the dummy from spinning; the good guy's servant intervenes, and before long the principals are whaling away at each other. You are supposed to root for the guy in red, as the guy in black announced his intention to raise taxes as soon as he becomes king. (5.92 MB)
CentrO in Oberhausen is a shopping mall and complex of attractions, including the Gasometer and SeaLife. We went with Guido and Michaela, and had lunch at a wonderful Chinese buffet.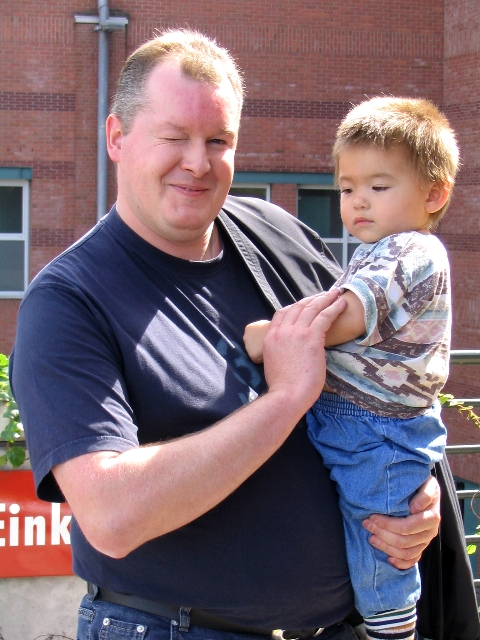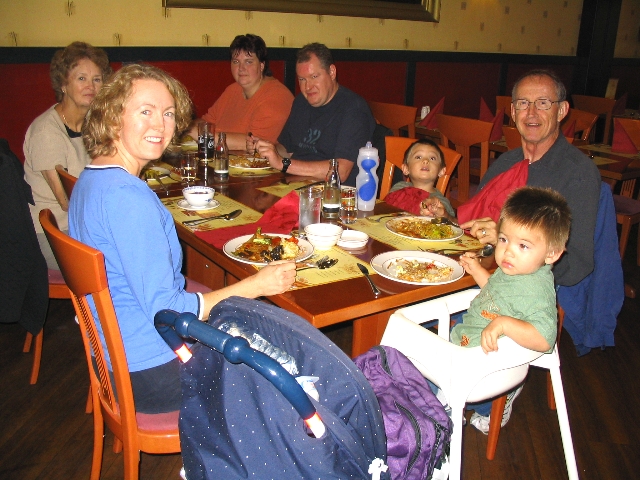 Patricia und Ondine: Our neighbors Patricia, Gregor, and Veronica have been helpful to us in so many ways! Here's a photo of Patricia and Ondine.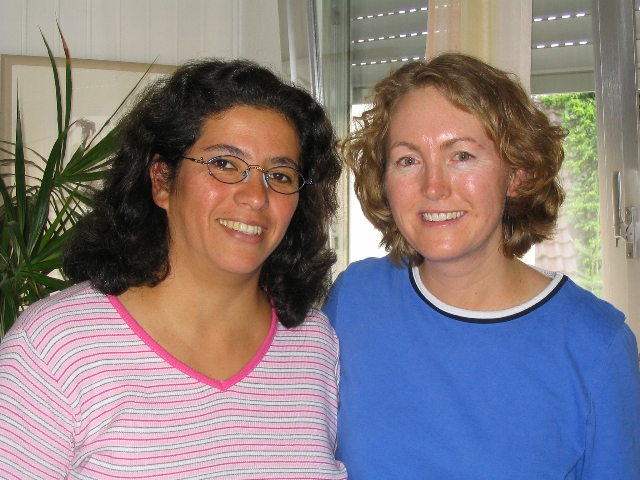 Onward to the fourth photo page
Back to the Kuraoka Family main page