Germany Album 2004, Page 5
www.kuraoka.org
Our six-week house swap in Mülheim an der Ruhr.

Back to the fourth photo page
Relevant weekly journals:
September 3, 2004: Irrland, Witthausbusch, pommes frites at last, Landschaftspark.
September 7, 2004: Landschaftspark at night, Gasometer, going up the Kölner Dom.
Irrland! Peter took Ondine, Roy, and Leo to Irrland, a crazy place with lots of activities and amazing play areas. The first photo shows just a small part of the sprawling corn labyrinth leading to various play areas. The next photo shows Peter and Roy atop one of the house-sized mound trampolines.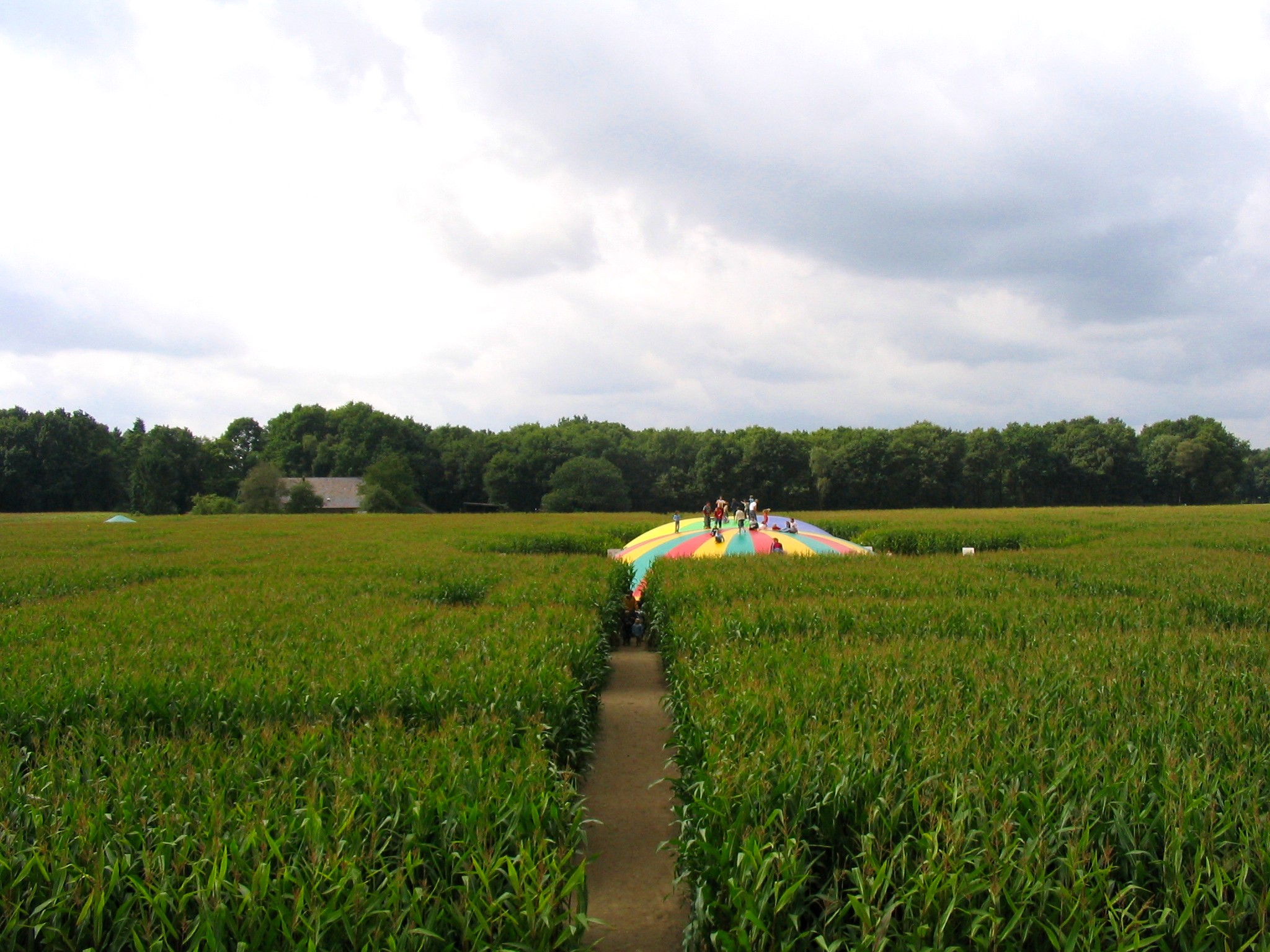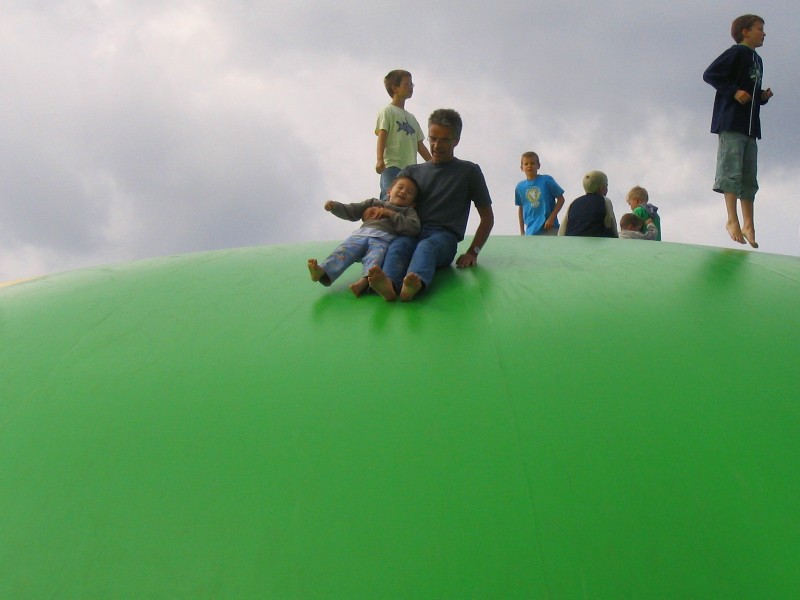 Click here to see Peter and Roy playing together. It's hard to tell, but the spinning platform is mounted at an angle, so not only is it gravity-driven, but you can really get extra-seasick going round and round and up and down! (1.71 MB)
Next up, some tractor fun! The first photo shows Peter and Roy racing. The next shots show Roy on a tractor pulling Leo on a trailer. The last shot shows Leo busy with a front loader.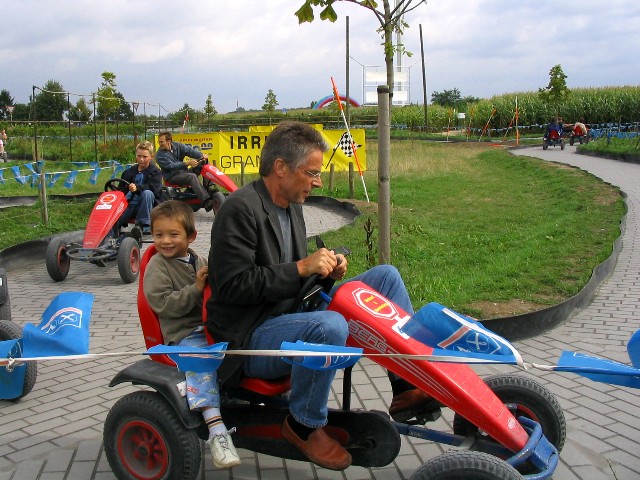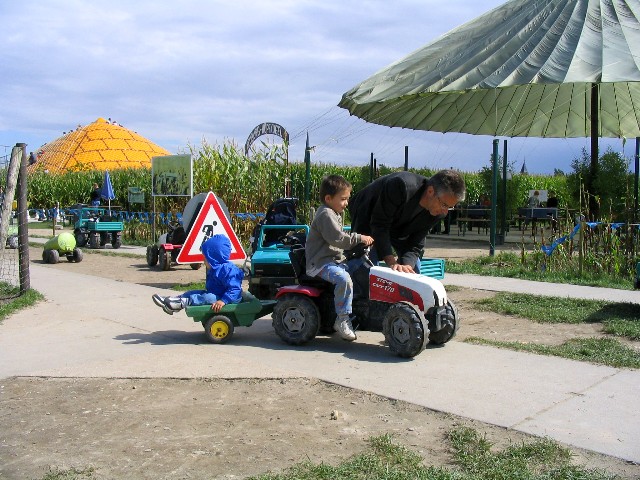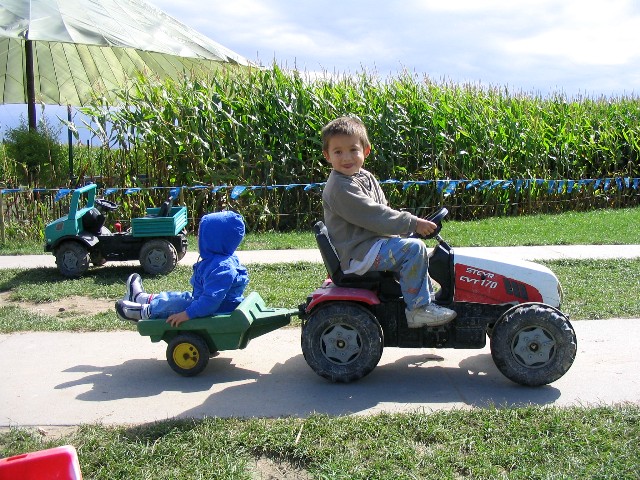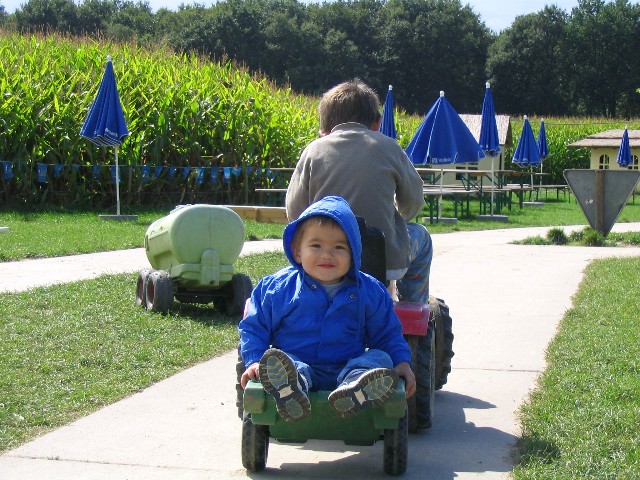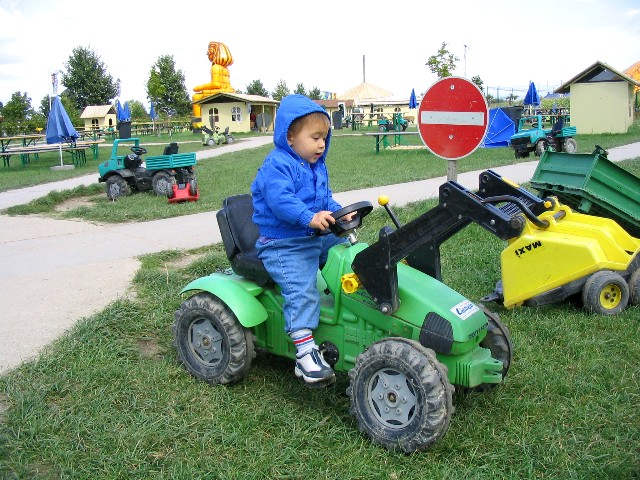 Click here to watch Roy going down a steep hill on a tractor cart. (1.36 MB)
The amazing corn pool! This was a warehouse-sized pool of corn nearly two feet deep. The kids loved this!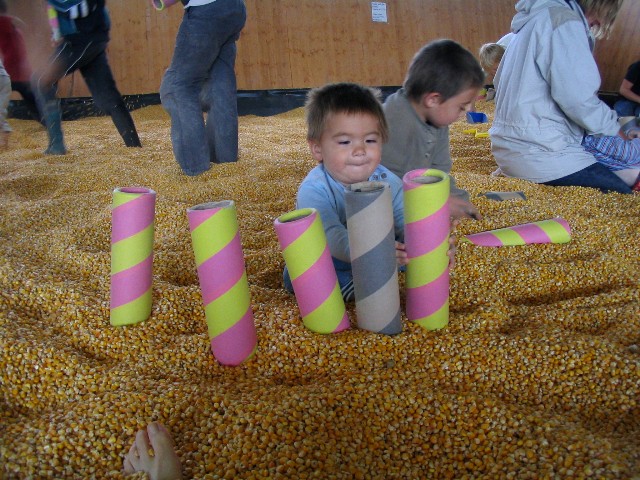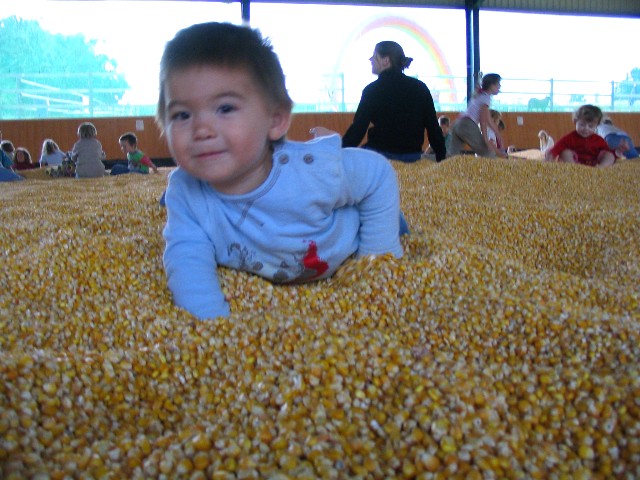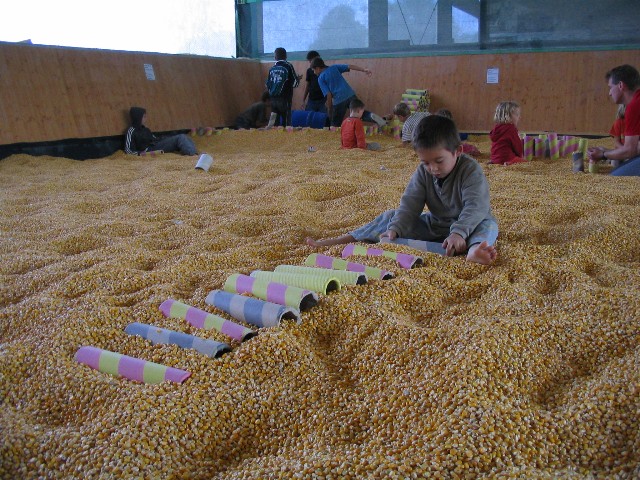 Click here for a long video clip showing the incredible corn pool at Irrland! (4.65 MB)
Erika und Paul visit to share with us their video from their Russia trip, which they just returned from. It sure looked beautiful! Here are John, Ondine, Erika, und Paul.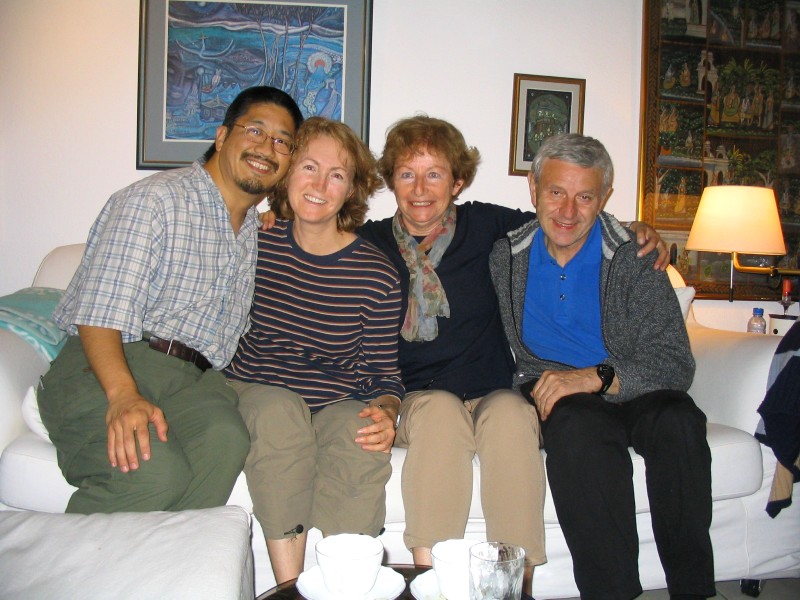 Witthausbusch is a park and petting zoo. The petting zoo was free and the park and play area was huge, with a meadow surrounded by woods.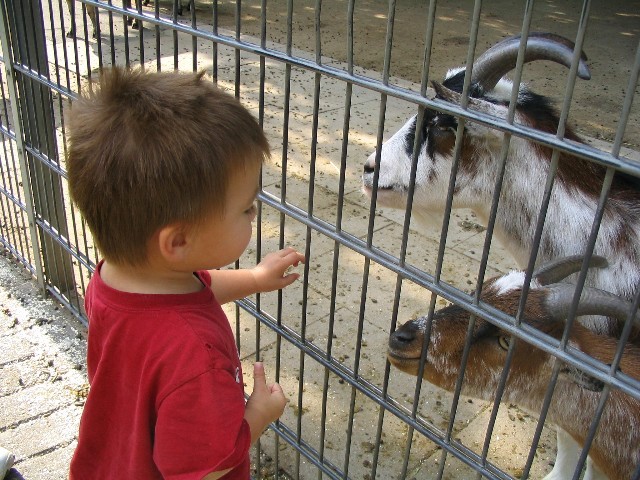 Click here for a short video clip of Leo feeding a goat. (798 KB)
Click here for the above video clip as a full-screen .avi file. (2.68 MB)
Click here for a long video clip of Roy, then Roy und Veronica, on the roundabout. (2.62 MB)
Click here for a video clip of the group. In order of appearance, the people are Jonas (in dark blue), Luka (Jonas' cousin), Veronica (hiding), Gabi (Jonas' Mom), Ondine, Patricia (Veronica's Mom), Roy und Leo (eating from their klickboxen). (1.66 MB)
Afterwards, we all went to Erika's, a hole-in-the-wall chip shop serving up Mülheim's only five-star rated pommes frites. That's the Erika's Special in front, with pommes frites, onions, mayonnaise, and special sauce. Behind are a couple wursts and the kids' plain pommes frites with mayonnaise. You can also see a small bowl of ketchup for Roy.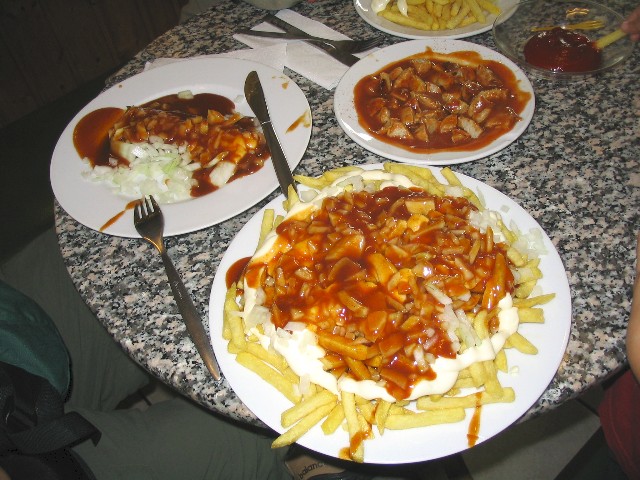 After such a heavy meal, we were grateful for the Underberg, from Horst, a wonderful herbal digestive bitter that is, according to the tin, "Weltweit nach gutem essen" ("Worldwide after a good meal."). Excellent!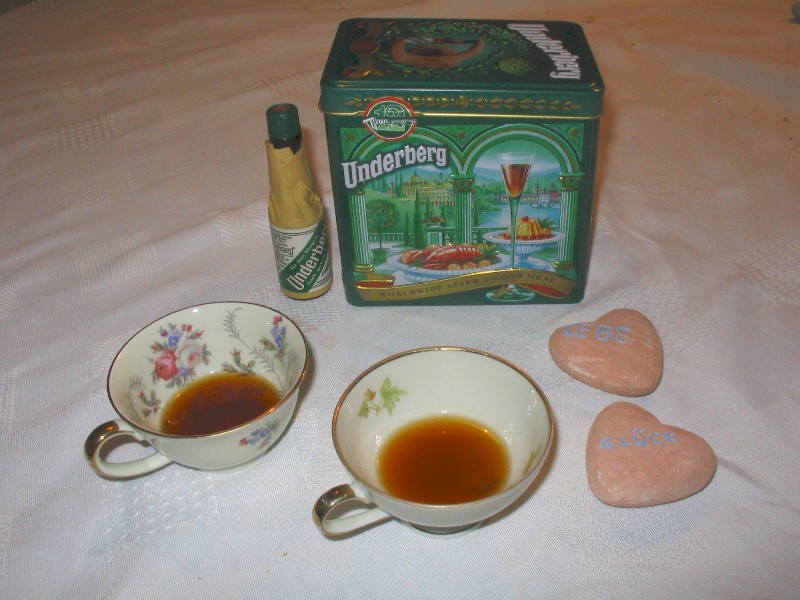 Landschaftspark. Erika und Paul took us to the Landschaftspark (Landscape Park) in Duisburg Nord, a park celebrating the industrial heritage of the Ruhrgebiet. The heart of the Landschaftspark is the former Meiderich Eisenhütte (ironworks), which closed due to European steel quotas in 1985. The whole thing has been turned into a local attraction and event venue. The bunkers have been turned into vast climbing walls with hundreds of routes; the gasometer (a giant holding tank) was filled with water to be used as a diving center. John went up the blast furnace with Paul, and Ondine went up with Erika. Then, John went up again with Roy, who walked all the way up to the top by himself, and back down again.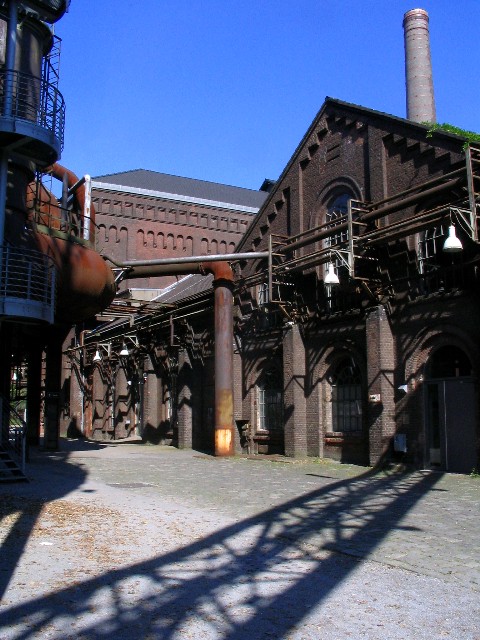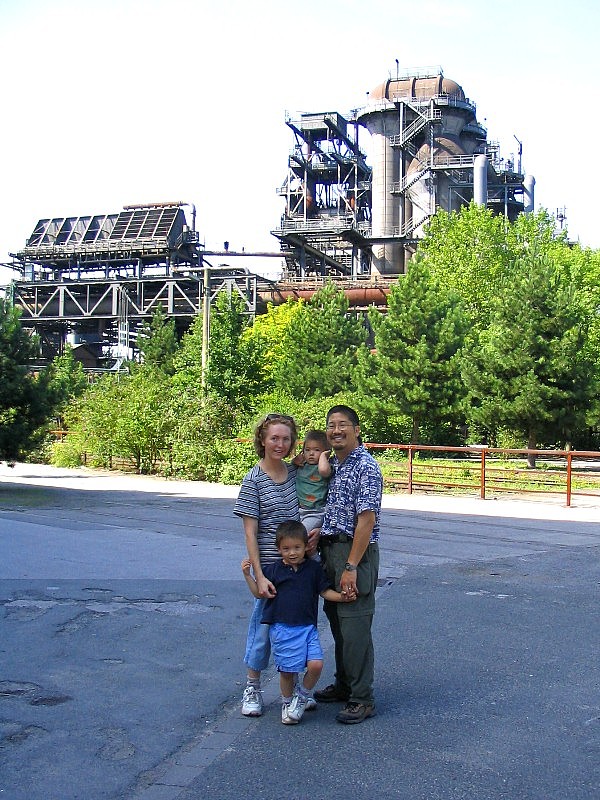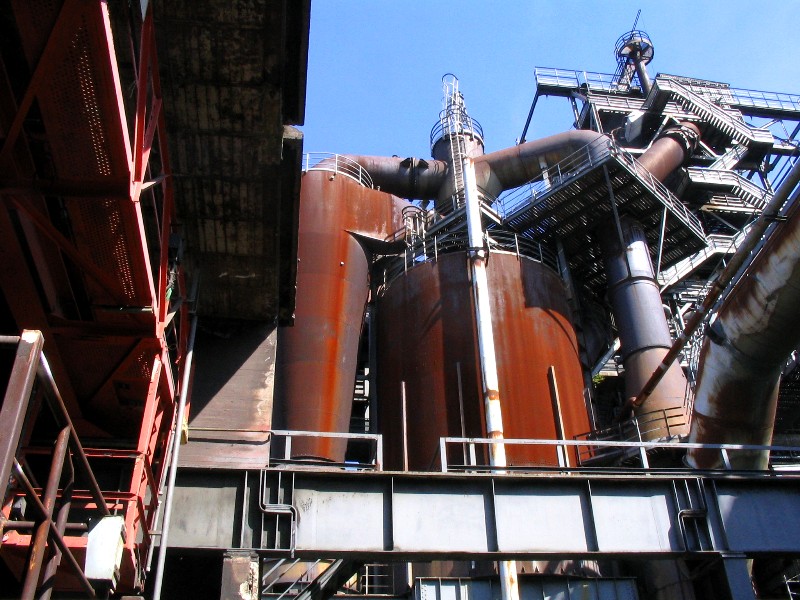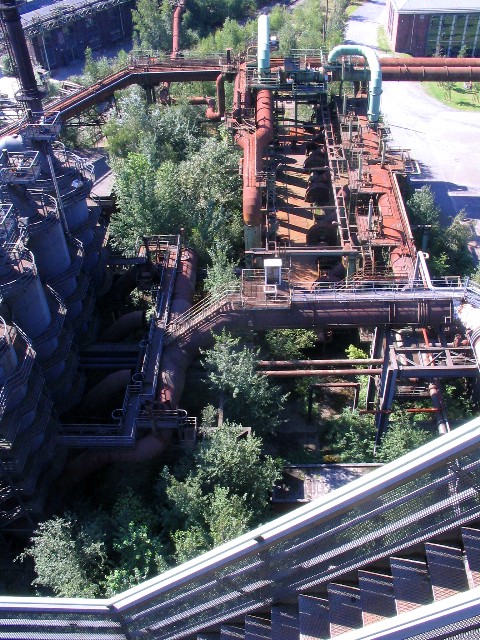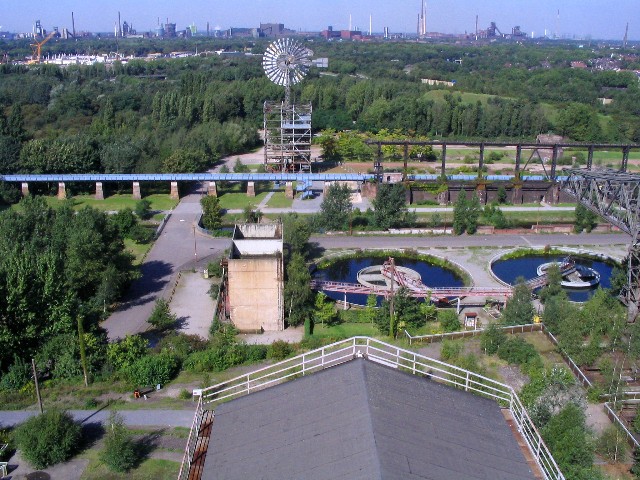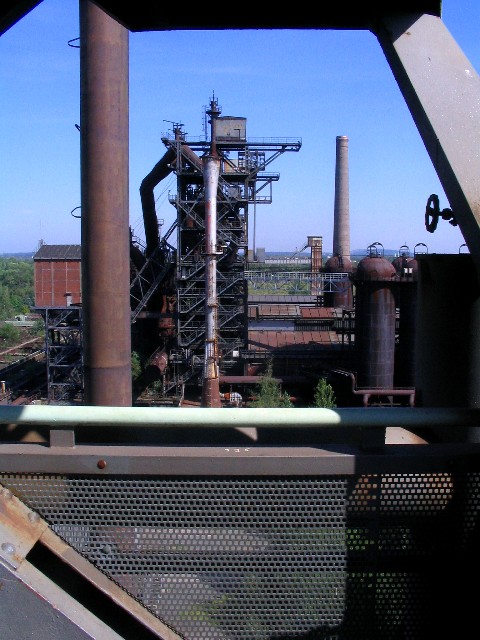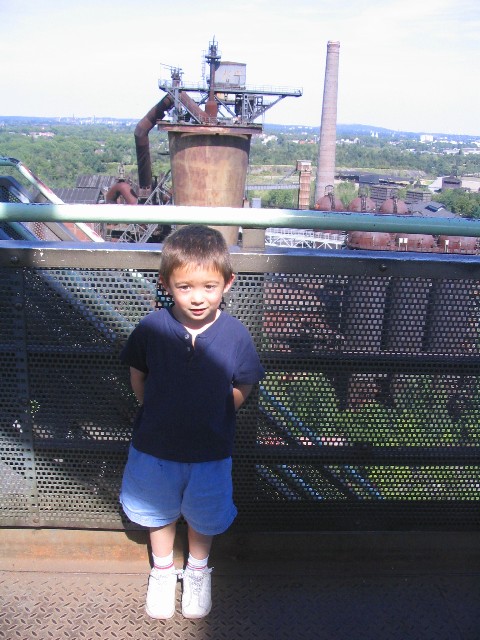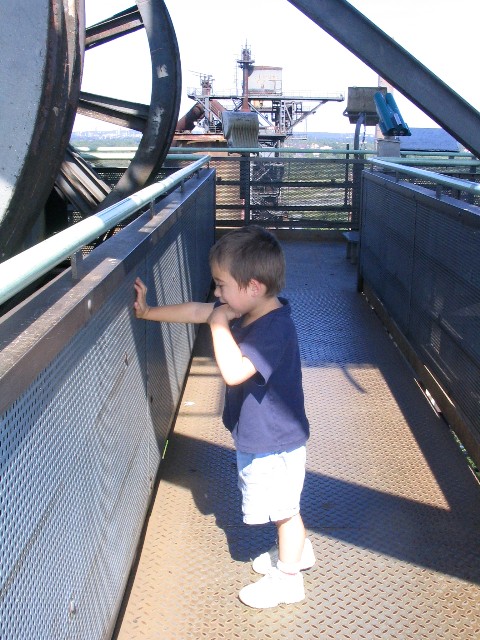 Click here to join us climbing to the top of the blast furnace. We'll climb a lot of stairs, walk through the innards of the blast furnace, clamber up and around the outside edge on steel-mesh stairways suspended in mid-air, then emerge on top with stunning panoramas. (6.76 MB, a big file for a minute-and-a-half tour)
Kinder classes. We enrolled Roy and Leo in two once-a-week classes through AWO, a music and movement class on Tuesdays and an experimental/experiential class on Fridays. Classes are held at a regular pre-school facility. Here's the last Friday class, with teacher Ralf. Clockwise from far left: Annie (in purple), Ondine, Leo, Roy, Ralf.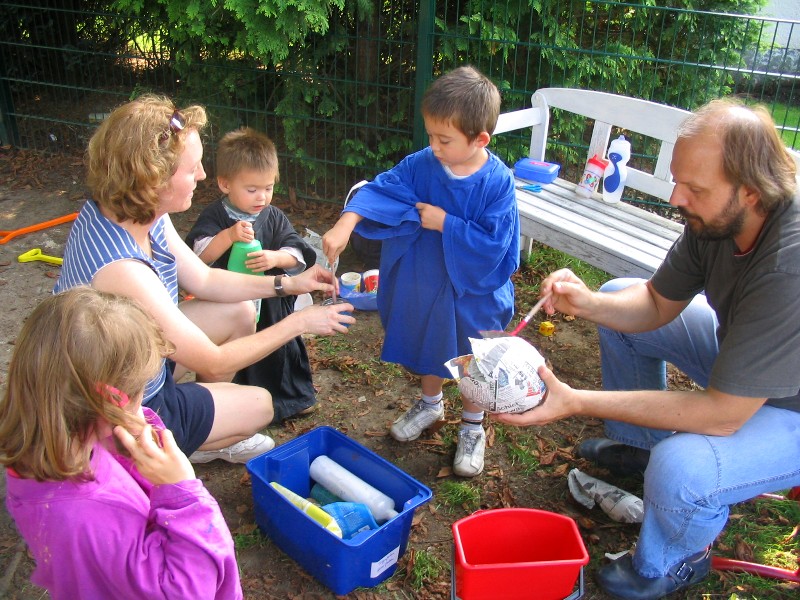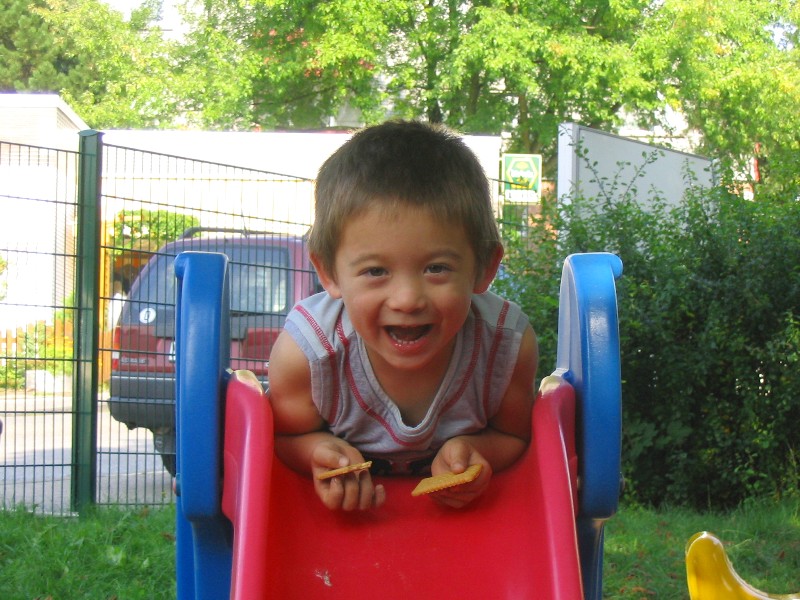 Grillen. We're invited to Catalina and Jörg's house for a grillen (barbecue). Yum! Catalina is from Colombia; she and Patricia are good friends. The first photo shows us at the table: (from left, clockwise) Patricia, Catalina, Jörg, and Ondine with Leo. The second photo shows the kid's table: (from left, clockwise) Sophie, Roy, Veronica, and Lara. The third photo shows the delicious meal!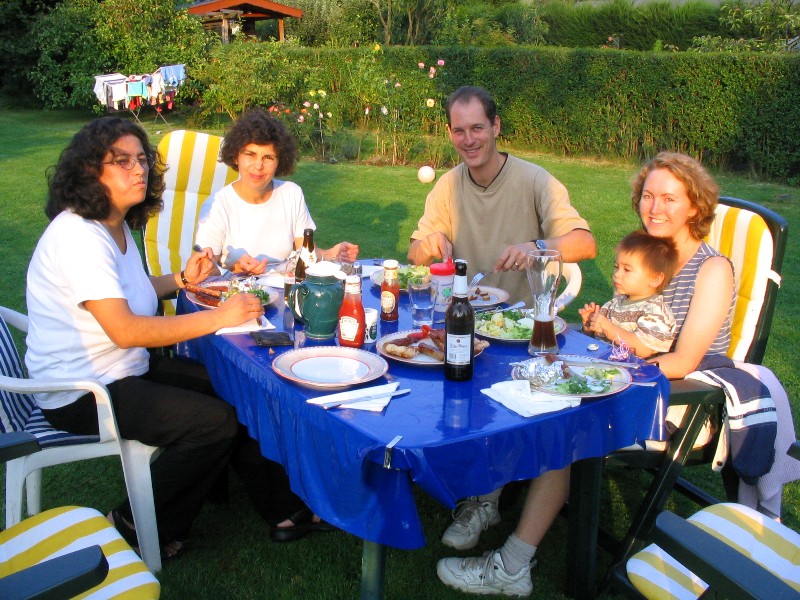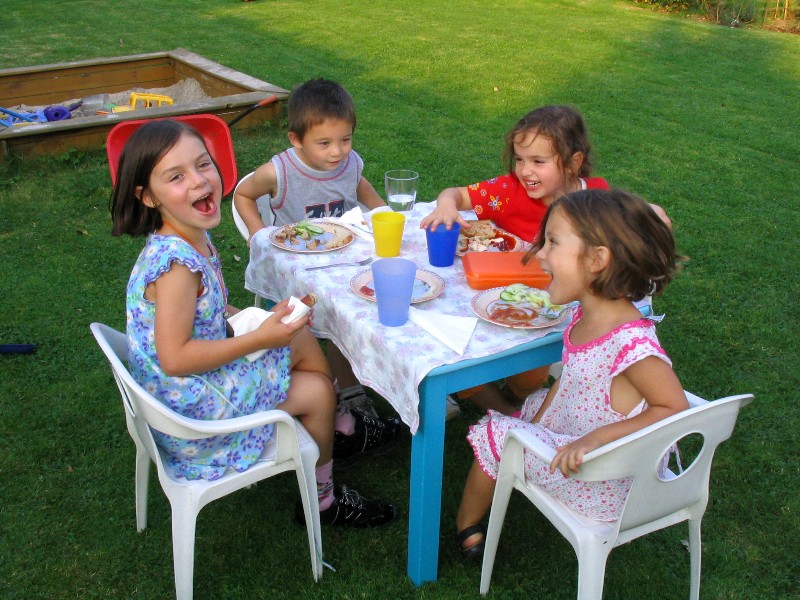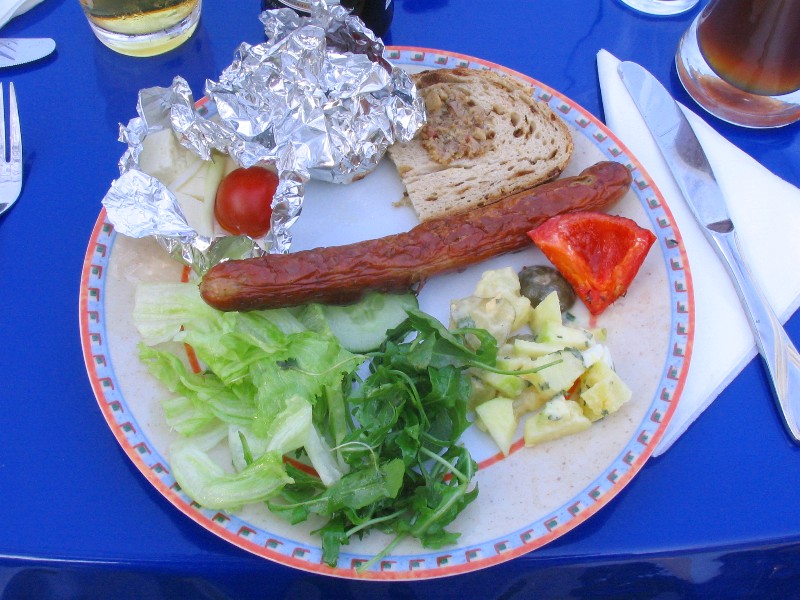 Wald. We asked Roy what he would like to do, and he said he wanted to go for a walk in the wald (woods). An excellent choice in the warm, clear weather, because it's shady and cool in the dark parts of the wald.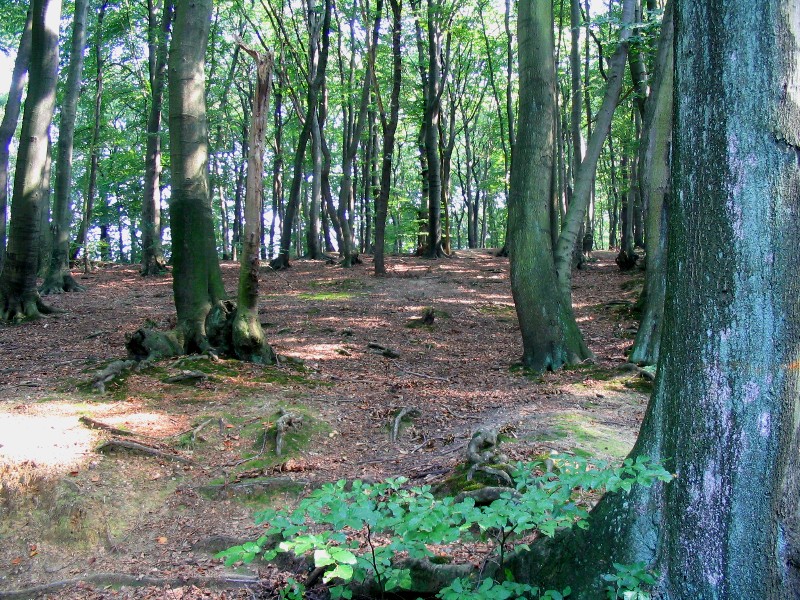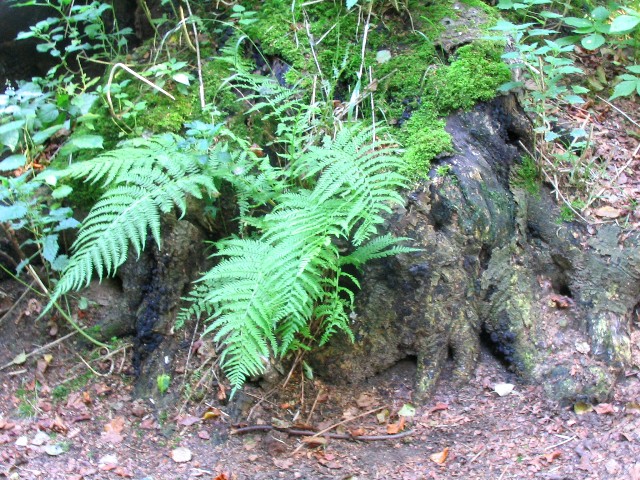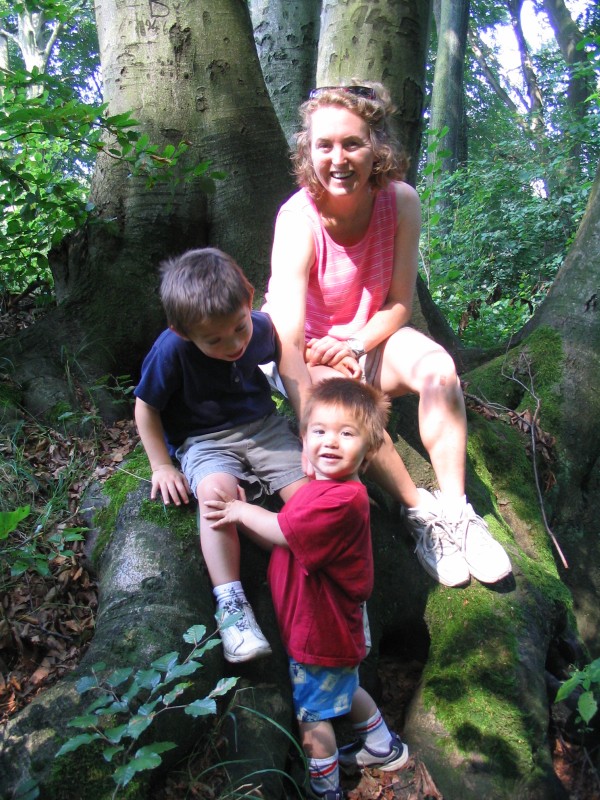 Landschaftspark after dark. The Landschaftspark is lit with colored lights in a subtle, beautiful piece of giant performance art by British artist Jonathan Park. Erika volunteered to watch over Roy and Leo while they slept, so we joined Patricia und Gregor for a night out. We went up the blast furnace again, where the colored effects of the Landschaftspark merged with the lights of the surrounding cities. What a magical experience! That's us in the first photo, Patricia und Gregor in the last photo, and, in between, are a couple weak attempts to capture the scene.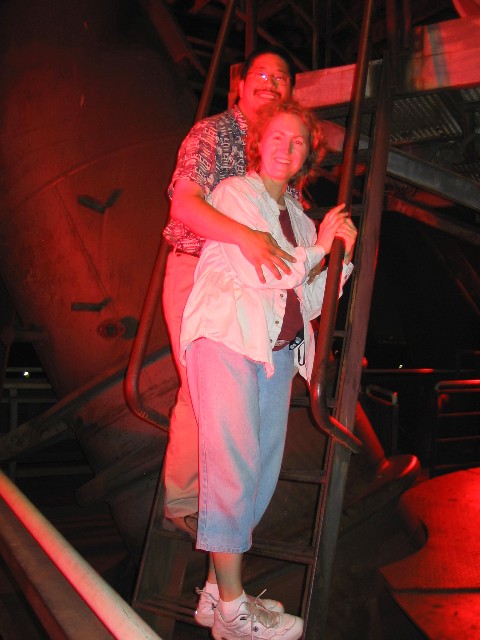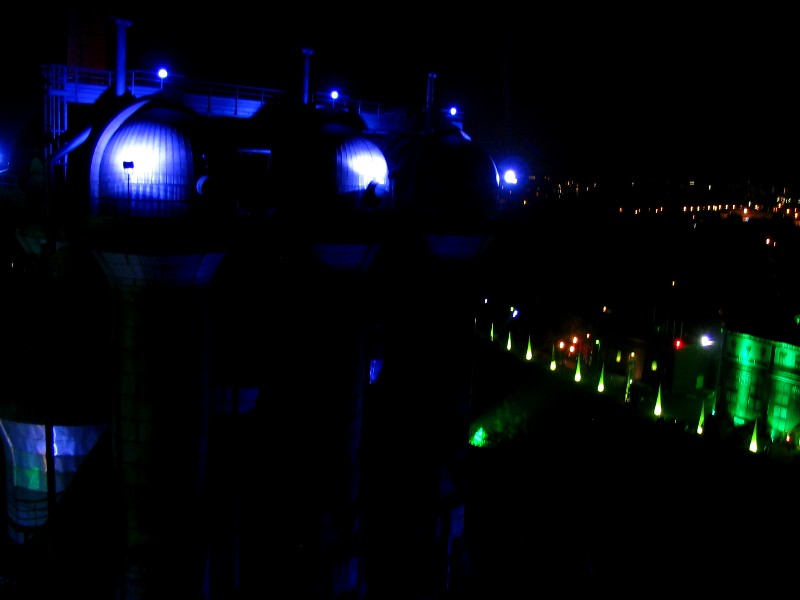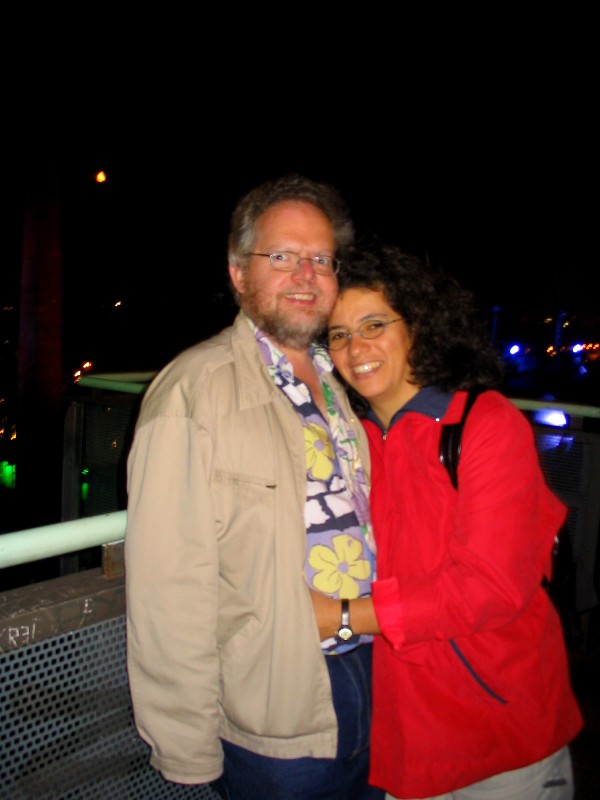 Onward to the sixth photo page
Back to the Kuraoka Family main page